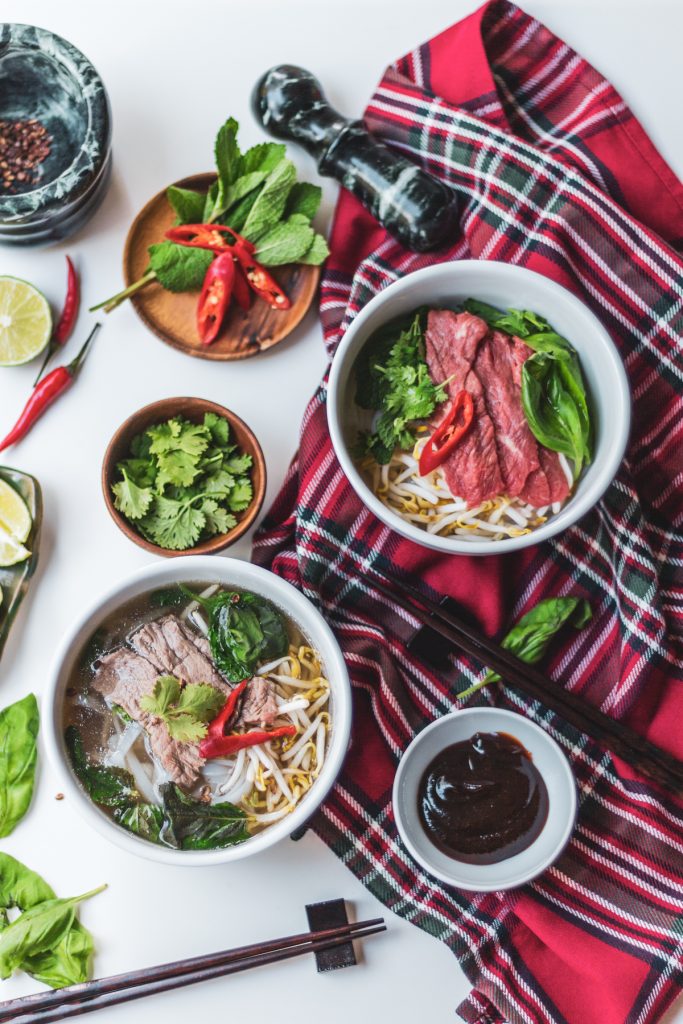 There is no pleasure quite the same as tucking into a steaming bowl of hot homemade soup. Pho, a staple Vietnamese soup, is no exception. Much like miso to Japanese cooking and chicken noodle soup to American cooking, this soup is full of flavors to comfort and warm you up.
And while making pho at home might seem like a complex undertaking, in its most pure form, pho is nothing more than a beautiful broth, supple noodles, and the toppings you choose to add — which means many home cooks have the skills and tools they need to make a version to be proud of.

We combed through many recipes for making pho broth at home before settling on this method we're sharing here. During our research, we found that most recipes can be divided into two schools.
Elaborate, with three or more types of bones: On one side, you find the more elaborate recipes, with broth made from three or more types of bones.
Shortcut recipes that simply flavor boxed broth: On the other hand, there are recipes filled with shortcuts to get you to the flavors of pho in a hurry.
But when we consider how to make the best pho for most home cooks, we find ourselves somewhere in the middle, with our focus squarely on producing a stand-out broth from scratch.
We spent the majority of our effort on making the best broth — not only because that's where the bulk of the flavor comes from in this soup, but also because broth-making is a skill most home cooks excel at or are eager to perfect. The techniques of preparing the broth in this recipe are universal. You can learn them here and apply them to your next soup-making endeavor, whether it's pho you're making or a favorite chicken noodle soup.
Overall, our goal is to give you a recipe for a soup that's just as satisfying as the bowl you dive into at your favorite Vietnamese restaurant, but with a method tailored for you, the home cook.
How to choose the right ingredients?
There are many important steps to follow when it comes to cooking pho at home. We're going to go through all of them in this cooking lesson. But before you even head to the kitchen, you've got to head to the store — because the first step to making really good pho at home starts with sourcing the ingredients.
Whether you head to your grocery store, order some of these ingredients online, or visit the Asian grocery store, below are the three ingredients to pay particular attention to. You can check out our detailed lists on what to look for when shopping for your soup for all the specifics.

Bones: Beef knuckles are the preferred cut for beef pho broth because they are rich in connective tissue but low on fat. The knuckle joints cook down in the broth, giving it body and a rich thickness that cannot be replicated. If you can't find knucklebones, go ahead and double the beef shank called for here. Some Asian markets sell packages labeled "beef soup bones," which can be exclusively knuckles or a combination of knuckles and shank (or leg bones). If you find them, snatch those up for beef broth.

Fish sauce: Be wary of supermarket fish sauce, which can be full of additives and preservatives. Instead, look for the fish sauce with two or three ingredients on the label. Red Boat is a great entry-level brand if you get overwhelmed with the choices at the Asian market.

Noodles: Beef pho is traditionally made with rice noodles. These flat noodles are sometimes labeled "rice sticks" and sold both fresh (sometimes found in the freezer section) or dried. Look for dried rice noodles with a medium thickness — too thin and they'll dissolve in the broth, but too thick means endless chewing.
What to take note when making Beef Broth?
For the clear broth, parboil the beef bones: A hallmark of good beef broth is a clear, unclouded broth, without a slick of oil on top. To avoid a cloudy broth, parboil and rinse the bones before making broth. Parboiling removes surface debris and some fat, leading the way for a clearer broth. If you must skip this step, scrub and rinse the bones well before building the stock.
For the true pho flavor, char the aromatics: I'm going to ask you to do something contrary to all your culinary instincts. You have to burn the onions and ginger for this broth. Charring gives the broth a distinct, unmistakable smokey flavor and opens up the these aromatics for boiling.
Toast the spices to bring warm flavor: Warming spices like anise and clove are essential to pho broth. Toasting the spices and tying them into a tidy bundle for simmering in the broth keep their flavors from becoming too pronounced. The result is a subtly spiced broth that can not be mistaken for plain beef broth.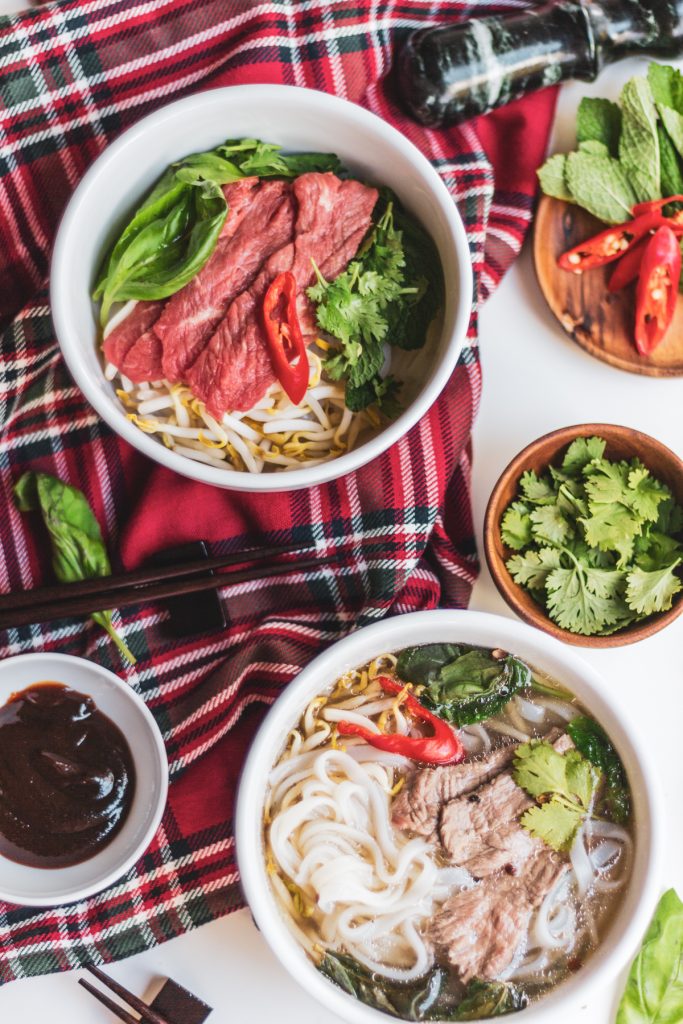 Now combining them together

A bowl of pho is made personal by what you put in your bowl. Up until then, all you've got is a spectacular broth, cooked rice noodles, and a tray of garnishes. Here's how we recommend putting things together:
The bowl: Grab a big one — you're going to need it.
The noodles: Add the noodles first; it's easier to add them before the hot liquid goes in.
The beef: Add this in with the noodles. Make sure you cut it very thin. Once you pour over the broth, it will begin to cook
The broth: Ladle over the hot broth. It will continue to soften the noodles and cook the meat.
The condiments: Assemble a tray of mint, scallions, bean sprouts, and limes. Don't forget to grab a bottle of Sriracha and hoisin, too.
A word of advice: Since most of the efforts in making pho go into making a delicious broth, start off with the Sriracha and hoisin in a small bowl on the side for dipping the meat into. If you like your broth teeming with the sweet heat of Sriracha and hoisin, stir both rights into your bowl.

If you give this recipe a try, let us know! Leave a comment, rate it (once you've tried it), and take a picture and tag it @leplaincanvas on Instagram! I'd love to see what you come up with.

xoxo, Joe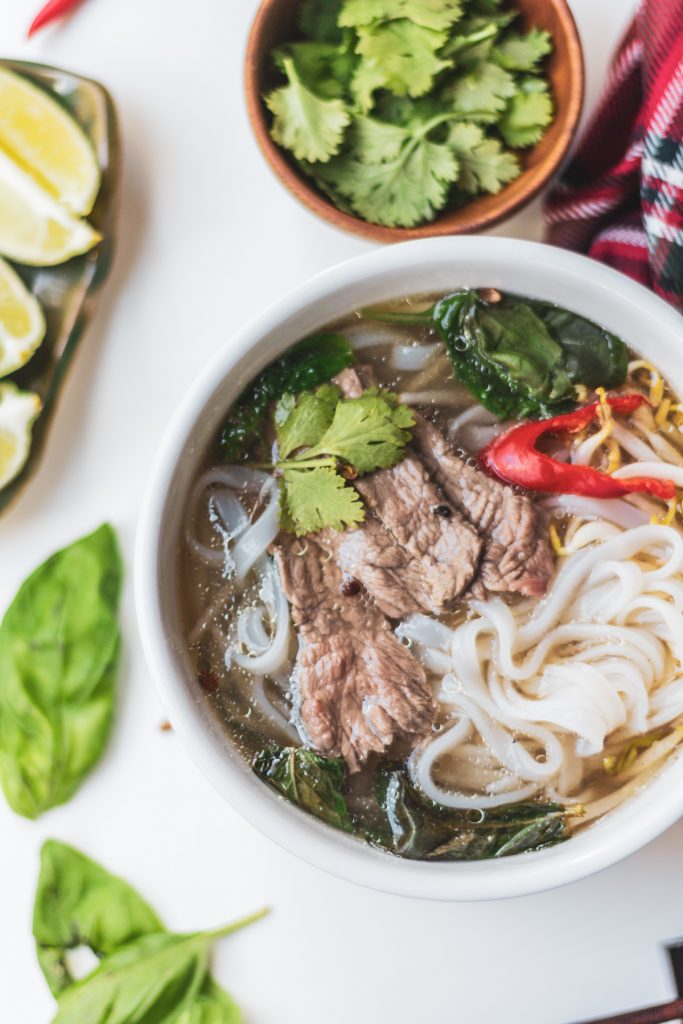 Easy Making Beef Pho at home
Ingredients
For the broth

2 pounds beef knuckles

2 pounds (1 1/2-inch thick) beef shanks

2 medium yellow onions

1 large hand ginger, about 6 ounces

2 tablespoons canola oil

5 star anise pods

6 whole cloves

1 teaspoon whole coriander seeds

1 teaspoon whole fennel seeds

1 cinnamon stick

1 1/2 pounds beef brisket or chuck roast

1/4 cup fish sauce

2 tablespoons packed brown sugar

For serving

8 ounces beef flank steak

2 pounds dry, small or medium rice noodles, labeled banh pho or rice sticks

3 scallions, thinly sliced

2 Thai bird chiles, thinly sliced

4 medium limes, quartered

1 cup bean sprouts

2 cups fresh cilantro, Thai basil, or mint leaves

Hoisin or Sriracha sauce (optional)
Methods
Parboil the bones and shanks: Place the bones and shanks in a large stockpot, cover with water, and bring to a boil over medium-high heat. Boil until a gray foam gathers on top, 5 to 10 minutes. Transfer the bones and shanks into a colander and discard the water. Rinse the bones and shanks under cool running water. Rinse out the stockpot and return the bones and shanks to the pot; set aside.
Char the onions and ginger: Arrange an oven rack directly under the broiler and heat to high. Line a baking sheet with aluminum foil. Peel and quarter the onions, halve the ginger hand and place on the baking sheet. Drizzle with the oil, toss to combine, and arrange in a single layer. Broil, stirring or rotating the pan every 3 to 4 minutes, until the onion and ginger are blackened, 15 to 20 minutes total. Set aside to cool.
Toast the spices: Place the star anise, cloves, coriander, fennel, and cinnamon in a large cast iron skillet over medium heat and toast, stirring frequently to avoid burning, until fragrant, about 2 minutes. Remove the spices to a small bowl and let cool. Secure the spices in a small spice bag or bundle made of cheesecloth.
Simmer the broth: Add the brisket, onion, ginger, and spice bundle to the stockpot. Add 1 gallon of water and bring to a boil over medium-high heat. Reduce the heat to a simmer and cook for 5 to 6 hours. While the broth is simmering, occasionally use a clean spoon to skim any gray foam from the surface. The broth is ready when it reduces by half and the brisket is fork-tender. The broth can be made up to a week in advance, or, if serving immediately, feel free to prepare the noodles, flank steak, and accompaniments while the broth cooks.
Strain the broth: Remove the brisket from the broth and reserve for serving with the finished soup. Add the fish sauce and brown sugar to the broth and stir to combine. Taste the broth. Does it need a little more salt or sugar? Make those adjustments now. Strain the broth through a fine-mesh strainer or a colander lined with cheesecloth set over a large bowl; discard the solids. The broth should be cooled and then chilled immediately for storing, or can be returned to a pot on the stove to return to a boil for serving.
Blanch the noodles: Place the rice noodles in a large bowl, cover with warm water, and soak. Meanwhile, bring a large pot of water to a boil. Drain the noodles and add them to the boiling water. Cook until tender, 1 to 2 minutes. Drain and set aside until ready to serve.
Freeze the flank steak: Place the flank steak on a plate and freeze 15 minutes.
Slice the flank steak: Thinly slice the flank steak across the grain; you may find a serrated knife works best for this. Cover and store in the refrigerator until ready to use.
Prepare the accompaniments: Slice the reserved brisket. Make a small tray of the herbs, chiles, limes, sprouts, and sauces.
Prepare pho bowls: Divide the noodles, brisket, raw flank steak, and scallions among wide, deep bowls.
Boil the broth: Bring the broth back to a boil over medium-high heat. Top each bowl with the boiling broth.
Serving and eating: Put the condiments in a small bowl on the side for dipping meat, as to not ruin the flavor of the broth.