Mentaiko Pasta has been in trend for quite a few years, and it has become one of our favourites in making them. It is simple and the ingredients are easy to obtain in our house. It is a combination of Western and Japanese cuisine, two of our favourite cuisine – it is like having the best of both world.
This is one of the quick recipes as it doesn't require any cooking of the sauce. As soon as the spaghetti is done, just add it to the bowl with the mentaiko mixture and give it a good stir. Then add some of that pasta-cooking water gradually, tossing as you go, until a smooth, emulsified sauce forms. Keep tossing until it just coats the noodles, without any excess liquid pooling below.

Top the pasta with strips of nori seaweed and julienned shiso leaves (perilla) to give it nice distinct aroma and flavour, just like how julienned basil provides the final touch for some Italian pasta dishes.

One last note: Don't take that nori garnish for granted. It adds an essential flavour to the dish once mixed in; a deeper, more umami flavour of the ocean. It really completes things.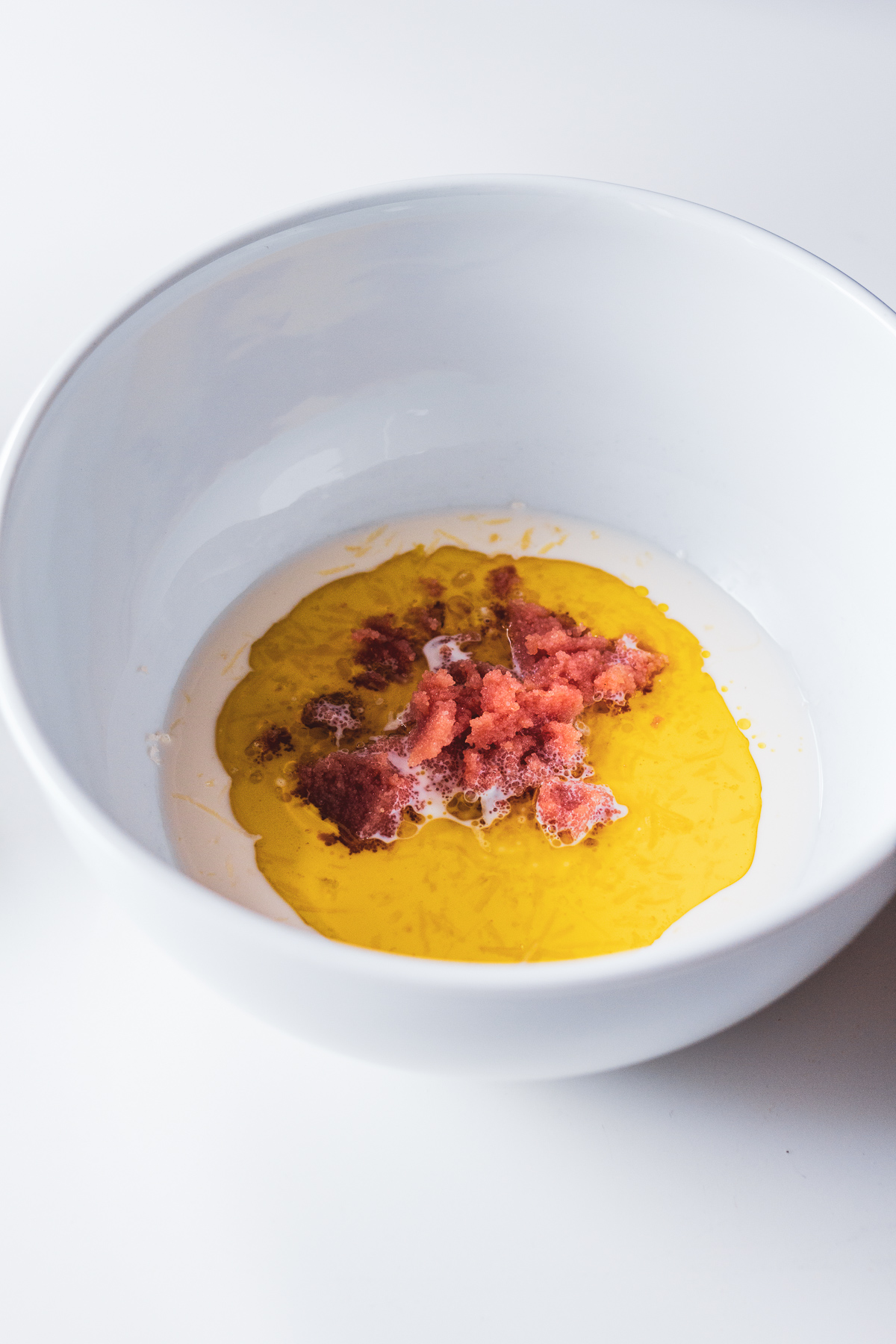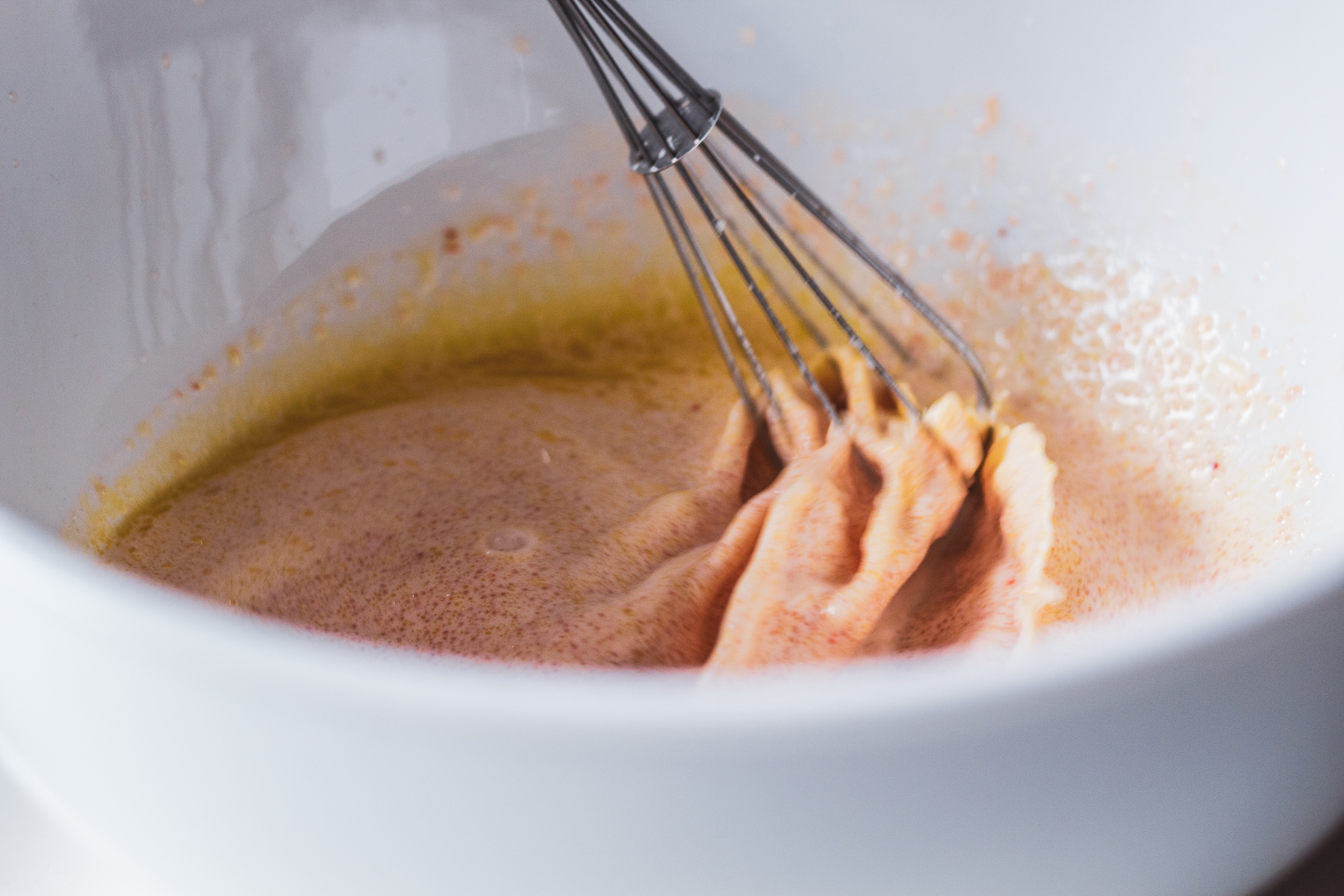 I hope you will enjoy making this Mentaiko Pasta recipe! Leave a comment, rate it (once you've tried it), and take a picture and tag it @leplaincanvas on Instagram! I'd love to see what you come up with.

xoxo, Joe
Creamy Mentaiko Pasta
Mentaiko pasta has become a classic of the Japanese-Italian kitchen and is popular on late-night menus as an accompaniment to heavy drinking. It's also as easy as can be: deliciously buttery noodles tossed with spicy cured pollack roe and strips of nori—all the flavour of the ocean, packed into an effortless bowl.
Ingredients
Kosher salt

1/2 pound (225g) dried spaghetti

1 1/2 to 2 ounces mentaiko (40 to 55g; about 2 small lobes)

1 1/2 tablespoons (20ml) light (usukuchi) soy sauce

6 tablespoons (90g) unsalted butter, melted

Nori seaweed strips, for garnish
Methods
In a pot of salted boiling water, cook spaghetti until al dente, according to timing given in package instructions.
Meanwhile, using a sharp paring knife, slice mentaiko lobes open and scrape out roe. Reserve 2 teaspoons (10g) roe for garnish and place the rest in a large heatproof bowl. Add soy sauce and melted butter to bowl with roe, stirring to combine.
When spaghetti is done, transfer to bowl with butter sauce using tongs. Add 1/4 cup (60ml) pasta-cooking water, then stir and toss pasta until it is evenly coated in sauce, any excess liquid has been absorbed, and a smooth, creamy sauce has formed. Transfer to serving bowls, top each bowl with reserved roe, and garnish with nori strips. Serve right away, mixing nori and roe garnish in with chopsticks before eating.