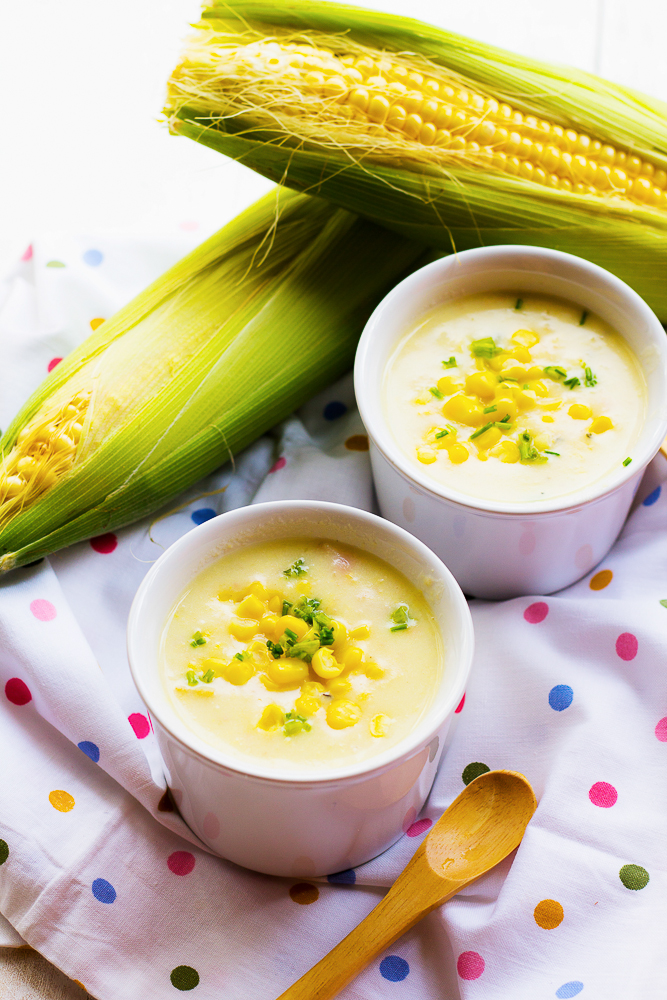 It has been raining these days, I definitely missing the warm sun's rays, neither I could deny that how much I love hiding in my bed when it's raining! Who doesn't love it; laying on their cozy bed with a warm cup of drink or soup?
It rains heavily again, days like today when you feel so dense as you couldn't achieve any plans you planned. There is no food better than a bowl of Corn Chowder that warms your cold soul, it is always a treat after a chilly day outside.
It is also one of the kinds of breakfast that you would love to have to kick start your day with! We love to share our home-style Corn Chowder, it is one of the simple dishes you could have it all the time even if you are busy in the morning!
Ingredient |
6 cups of fresh sweet yellow corn, husked and silks removed and kernels cut from cob
3 tbsp of butter
5 slices bacon, cut into 1/2-inch pieces
1 medium yellow onion chopped (1 1/2 cups)
1/4 cup all-purpose flour
1 clove garlic, minced
5 cups of water
500g Yukon-Gold potatoes, cut into 1/2-inch pieces
1/2 tsp dried thyme
Salt and freshly ground black pepper
1 cup half and half
1 tbsp honey
2 – 3 tbsp chopped fresh chives
Direction |
In a pot, melt butter in a large pot over medium heat. Add the onion and bacon and cook, stirring frequently, until onion has softened and just starting to brown around edges, about 8 – 10 minutes.
Add in the flour and garlic and cook 1 1/2 minutes. While whisking, slowly pour in 5 cups water. Bring mixture to a boil, stirring constantly, then stir in corn kernels and potatoes.
Add in thyme and season with salt and pepper to taste. Bring to a light boil, then reduce heat to medium-low and allow to simmer, stirring occasionally, until potatoes are tender, about 20 minutes. Cool, it for 20 minutes.
Transfer 2 1/2 cups of the chowder to a blender and blend until smooth. Stir the mixture back into the pot then stir in half and half and honey. Sprinkle each serving with chives.
Don't you find it easy? For those busy ones, who have no time to make it in the morning, but want it as breakfast, you could always make it and keep them in the freezer and boil it whenever you want! Give it a try, our home-style Corn Chowder, we promised that you will love it just like us, and it served well with toast.
Make it or whatever so. Like, we're begging you. Make them take a photo, send us an email, tag us on Instagram, tweet us, anything. We want to see yours! It would make the day! We love when we get to see the dishes you guys make.
Lastly, don't forget to check out more "Behind Plain Canvas" at our Steller!
xoxo, Angela.