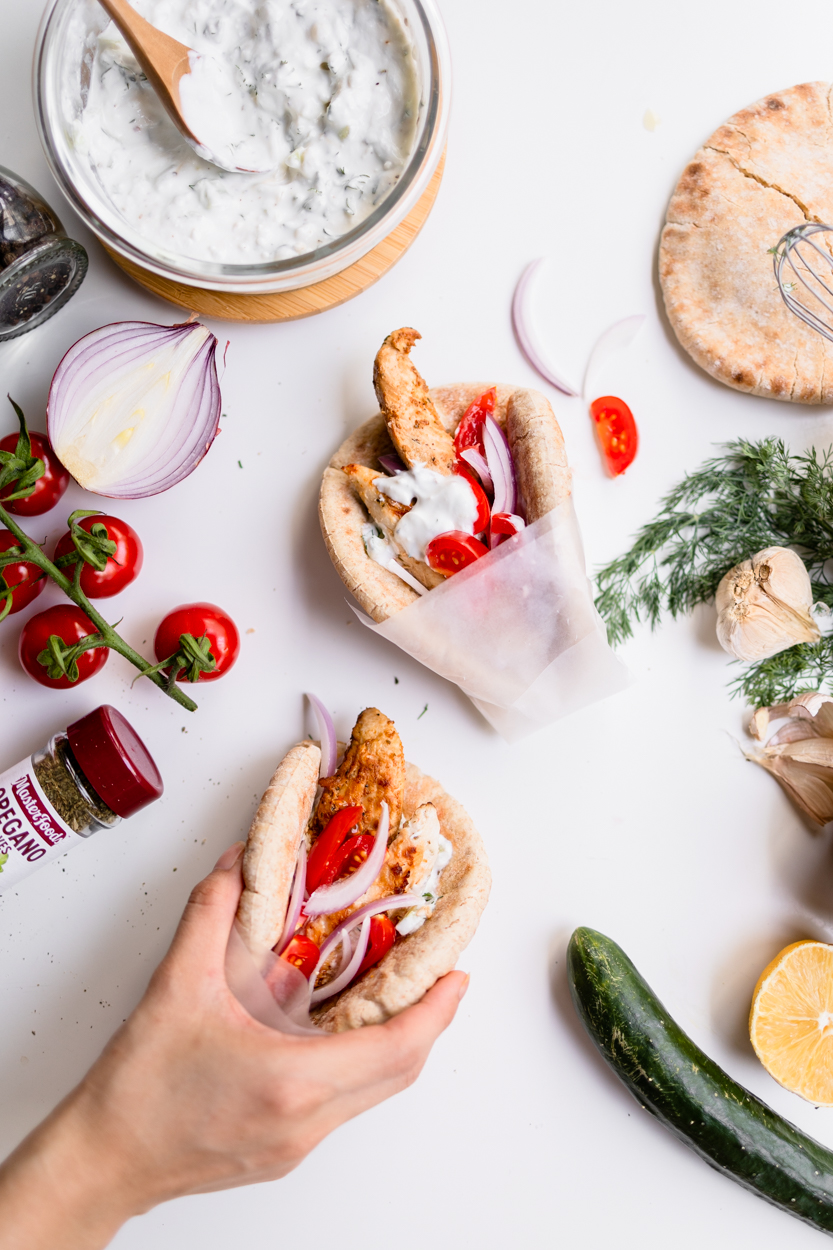 Years ago the Mediterranean diet was all the rage. Everyone was tapping into their secrets for living healthy lives. Since then, Greek food has been in the spotlight for its use of fresh herbs and spices, protein-packed Greek yoghurt, and flavorful meats.

This recipes Chicken Gyros with Tzatziki Sauce has super succulent chicken breast tenders, loaded with all the bright Greek flavours we love (the secret is in the marinade we talk about later.) Warm-up some pita to carry the chicken, add in tzatziki sauce, some veggies, and tomatoes, and you've got your chicken gyros!

One of the things we really love about this chicken gyro recipe is that it comes together so quickly, making for a wholesome meal any night of the week. And no, you do not need to fire up the grill, although you can if you want. But you can just make the chicken in your skillet or even baked in the oven.
Gyro Chicken Marinade
The thing that starts it all for these chicken gyros is the marinade. A simple and versatile Greek chicken marinade that you can use regularly, even if you're not making chicken gyros. This is a yoghurt marinade with a nice dose of fresh minced garlic and a few warm spices (oregano, cumin, salt and pepper, cayenne if you like heat). A little fresh lemon juice and red wine vinegar add enough citrus, and a good drizzle of extra virgin olive oil rounds up the flavour.

What does yoghurt add to the marinade here? The lactic acid and calcium in yoghurt work to gently break down the protein in the chicken breast tenders, making them more flavorful and super tender. And you'll notice a bit of a crust too around this chicken, the yoghurt does that too!
Cast-iron vs Oven
We use both methods for our chicken gyros, while the oven varies from time to time, there is time we overcook the chicken and it turns out dry and hard. Thus we prefer the cast-iron/ non-stick pan as we have better control over it. Moreover, it will create a nicer browned surface visually.

Using cast-iron, heat a little bit of extra virgin olive oil in a non-stick skillet over medium-high heat until the oil is just simmering (don't let it smoke.) Add chicken (make sure you shake excess marinade off). Cook for 5 minutes on one side until nicely browned, then turn over and cook another 5 minutes or until chicken is fully cooked. Using the oven, heat the oven to 200 C. Shake excess marinade off the chicken tenders and arrange them on a baking sheet lined with parchment paper. Bake in the heated oven for about 20 minutes or until done.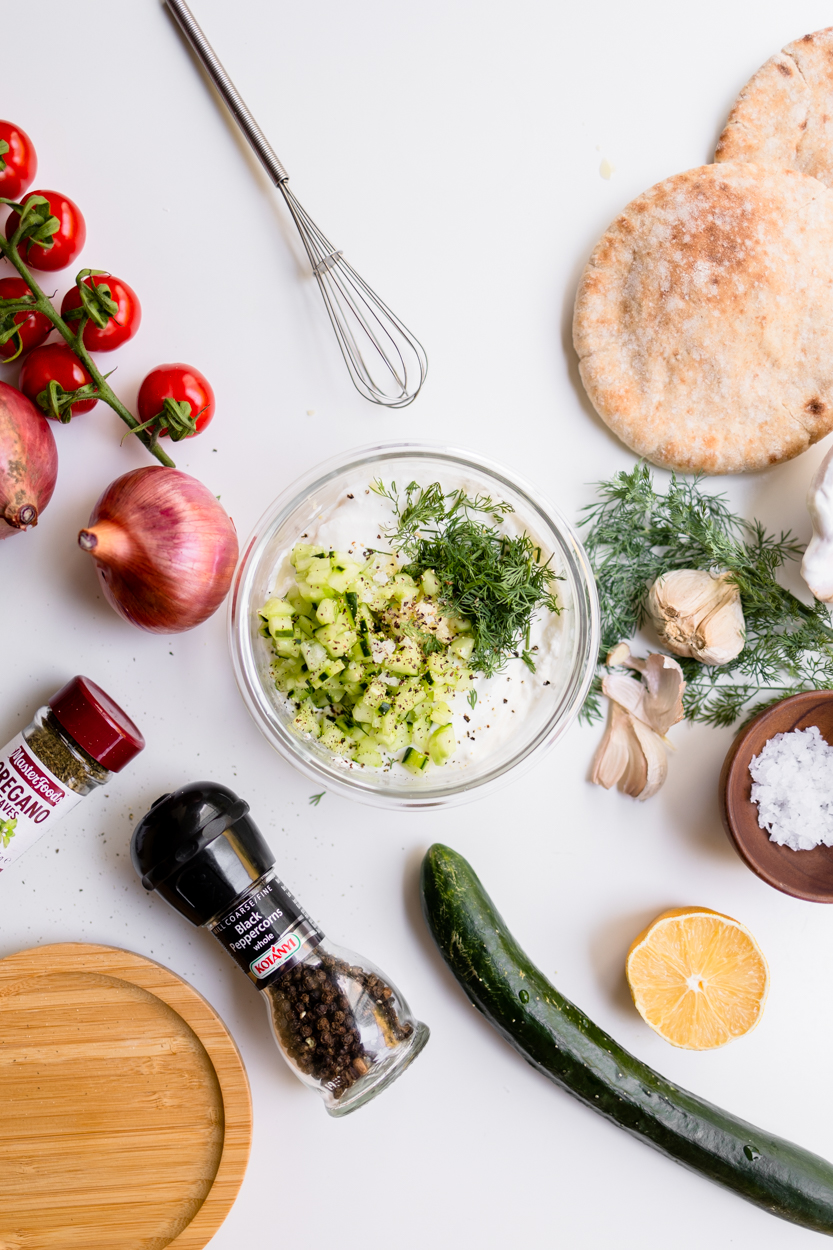 Simple Tzatziki Sauce
This authentic Greek Tzatziki sauce recipe comes to us from the Greek island of Paros! Tzatziki is a creamy Greek yoghurt sauce with cucumbers and fresh garlic. This is a versatile sauce that is the perfect accompaniment to many Mediterranean dishes. You can also slather it on your sandwiches, or simply use it as a dip with a warm pita and your favourite vegetables!

We like to mix my actual tzatziki sauce by hand in a large bowl. First, combine greek yoghurt, minced garlic, chopped cucumber, chopped drill, extra virgin olive oil, and a pinch more salt. Make sure to stir until everything is well combined. For best taste and texture, cover tzatziki sauce tightly and refrigerate for a couple of hours before use.
Summary of the important tips:
Marinate your chicken. You want it to not only be flavorful but juicy as well. By marinating it in greek yoghurt, olive oil, lemon juice, spices, and red wine vinegar, it gives it time for the chicken to soak in all of those traditional Greek flavours. At least 2-4 hours is a suggested amount of time but 24 hours is ideal.
Make your own Tzatziki sauce. It is so easy since it is made in one bowl and uses only the freshest of ingredients. The key is to squeeze out as much water from the grated cucumber as possible. This ensures that the tzatziki sauce stays nice and creamy. I used Fage 2% Greek yoghurt but the fat-free version works well too. Taste for seasoning and salt accordingly.
These Greek Chicken Gyros with Tzatziki sauce can be wrapped in your favourite pita bread. You can use soft flatbread or Naan bread as well. Warm your pitas before wrapping them to make them nice and soft.
You can also serve this chicken, Greek salad, and handcrafted tzatziki sauce in a bowl. Serve alone or on top of romaine lettuce.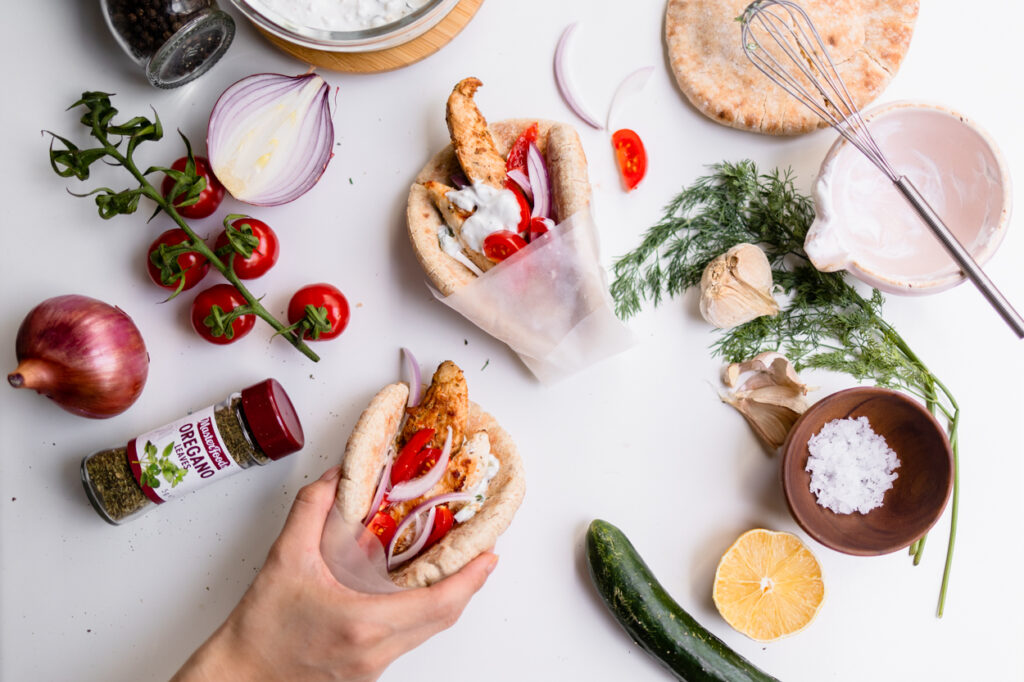 We hope your family loves these Greek Chicken Gyros with Tzatziki Sauce and we can't wait to hear all about what you are making in your kitchen!

xoxo, Joe
Chicken Gyros with Tzatziki Sauce
Ingredients
4-6 Greek Pita Breads Naan bread, or Flatbread

Chicken Marinade:

2 stripe Chicken Breast cut into pieces

1/4 cup Greek Yogurt

3 tbsp Fresh Lemon Juice

2 tbsp Extra Virgin Olive Oil

1 1/2 tsp Salt

1 tsp Pepper

2 tsp Oregano

Tzatziki Sauce:

1 1/2 cups Greek Yogurt

2 tbsp Extra Virgin Olive Oil

1 tbsp Lemon Juice

1-2 tsp Salt

1 tbsp Fresh Dill diced

3 Garlic Cloves finely diced

1 cucumber, diced

Greek Salad:

3 Tomatoes diced

1/4 Red Onion, sliced
Methods
Marinate the chicken: Place chicken, yogurt, lemon juice, olive oil, vinegar, salt, pepper, and oregano in bag and let marinate for at least 30 minutes, preferably 2-4 hours. The ideal time is 24 hours.
To make tzatziki sauce, stir together yoghurt, olive oil, lemon juice, vinegar, salt, dill, and garlic. Stir in grated cucumber and taste for seasonings. Squeeze the cucumber to remove excess water before adding it to the rest of the ingredients.
Chicken can be cooked on the grill or in a skillet. To cook chicken on the skillet. Heat skillet to medium-high heat. Sprinkle with oil. Add chicken and cook for 8-10 minutes, or until chicken is fully cooked and golden brown.
Place chicken in pita bread. You can warm the pita bread to make it pliable. Top with tzatziki sauce, tomatoes and red onion. Add additional feta, if desired.