Lately, I've developed a bit of an obsession with this latte, and if you've been keeping up with TikTok, you've probably seen the Biscoff Latte taking the platform by storm. I mean, it's a match made in heaven – Biscoff, also known as speculoos, combined with coffee!
This delightful concoction results in a velvety latte with a delightful caramelized twist. Trust me; you're going to love it!
What is Speculoos?
While many folks are familiar with the 'Biscoff' name that Lotus branded for their cookies, fewer know the traditional roots of this commercialized treat. Originally known as speculoos, speculaas, or spekulatius, these spiced gingerbread cookies were traditionally baked for St. Nicholas on Christmas day in Belgium and the Netherlands. Lotus has taken this incredibly scrumptious cookie and crafted their signature 'Biscoff spread,' which has garnered an immense following. I mean, who can resist the allure of a sweet, spiced, caramelized cookie butter?
Now, as for the preparation, it may vary depending on the type of coffee at your disposal. At its core, you'll need:
A shot of espresso
1 tablespoon of Biscoff spread
¾ cup of your milk of choice
Crushed Biscoff cookies for that extra oomph (optional)
For those fortunate enough to have a coffee machine, measuring out a shot of espresso is a breeze. However, if you're working with instant coffee powder, I'd recommend preparing a concentrated brew to replicate the strength of an espresso shot.
One thing to note is that I wouldn't suggest using a French press for this. Coffee brewed in a French press is typically less concentrated, which can dilute the overall flavor. Nevertheless, it's bound to be delicious even if you choose to go that route!
So, let's get down to creating this delectable drink. There's not much more to say except that once you give it a try, you'll be hooked – and I can't even begin to estimate how much Biscoff spread has been consumed since this revelation.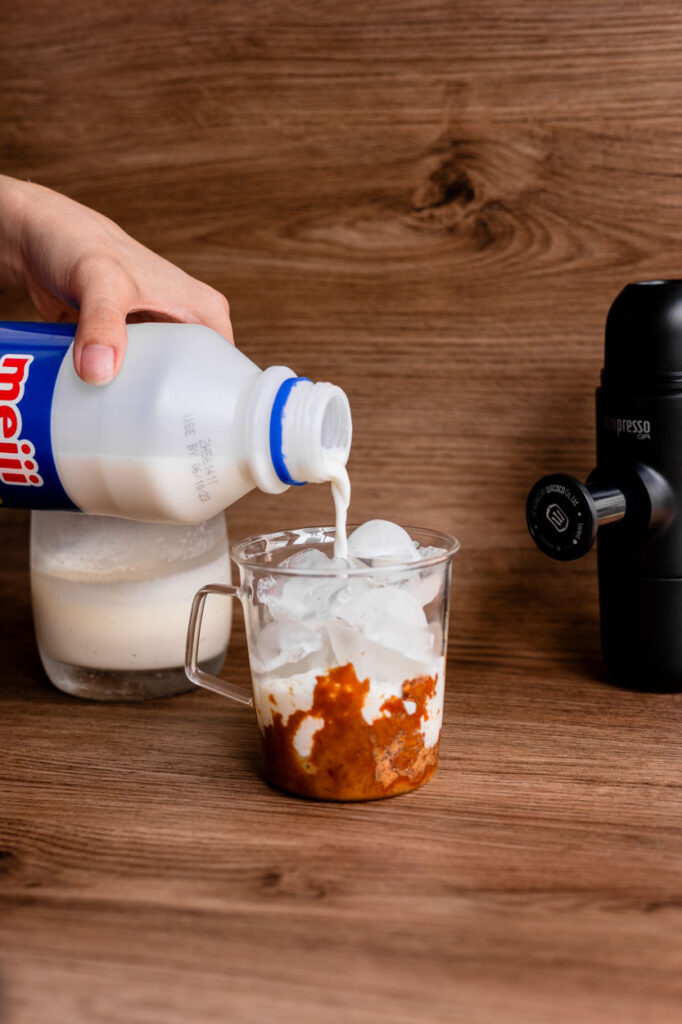 If you enjoyed this recipe, please drop a comment and rating below; I'd love to hear how it turned out for you. Also, don't forget to tag me on Instagram @leplaincanvas and use the hashtag #byplaincanvas so I can see and share your sweet creations. Until next time… happy baking!

xoxo, Joe
Biscoff Latte
Ingredients
a shot of espresso

5 pieces of biscoff cookies

¾ cup milk of choice

1 cup of cream

Crushed biscoff cookies (optional)
Methods
Place biscoff spread in your glass of choice
Prepare the espresso shot over the biscoff spread, mix until biscoff spread has dissolved completely
Top the espresso shot with your foamed cream
(ICE LATTE) Foam your milk with a milk foamer
Place several ice cubes ontop of your espresso shot, then top with foamed milk
Sprinkle with biscoff cookie crumbs and enjoy!