Previously we did a Tamago Origirazu with Cucumber and Bacon where we use the basic ingredients that you are able to find easily in your pantry. This time we decided to incorporate Angela favourite fruits – Avocado to it and create this Avocado Tofu Origizuru.

The main star here is the Crispy Sesame Tofu – a thick crust of black and white sesame seeds coats slabs of tofu, and a simple sesame sauce infuses them with sweet and tangy flavour. Adding rice, sprouts, tomato, mashed avocado and lettuce it became an Origirazu Burger. It's just as fun and flavourful as takeout, but it's so much healthier.
Making Soya Sesame Tofu "Katsu"
Tofu can get a bad rap as being bland, and that's because it is! In order for tofu to transform into delicious recipes, you have to season it well. Here, a simple marinade infuses the sesame tofu with flavor. It's savory, tangy, and easy to mix together, and it makes this recipe really tasty. Here's what's in it:
Soy sauce, for salty, savoury flavour
Rice vinegar, for brightness
Sesame oil, for richness and toasty, nutty flavour
Ginger and garlic, to freshen it up
Brown sugar, to add a sweet counterpoint to the other tangy, salty ingredients
Instead of reaching for a large bowl for your marinade, choose a small, shallow dish so that the sides of each tofu slab will be well-coated. Sara recommends marinating your tofu for at least an hour or overnight, but we only let ours sit for about 20 minutes, and it came out delicious. Of course, the longer you marinate it, the more flavorful it will be.
When you're ready to cook, dip each block of tofu into an egg wash and dredge it in the sesame seeds. Then, cook it in the oven, and enjoy! Find the full recipe with oven instructions at the bottom of this post.
Adding in your Greens
After preparing your mains – Tofu "Katsu" you can also start preparing your greens. You can pick anything you have in your fridge that you think compliment well with the Tofu "Katsu". However, below is our pick and you could refer to it as references.
Avocado, deshelled and deseed it. Mashed it and add drops of lemon juice for preventing the avocado from turning yellowish.
Lettuce and bean sprouts, wash and drain. (We doesn't want wet vegetables.)
Cherry Tomatoes, we tend to eat the whole slide of tomatoes as it is hard to bite off. Thus using cherry tomatoes make it easier.
You can even use sweet corns, or even cucumber here. However, we encourage to use something light as we doesn't want to overpower the Tofu "Katsu" which is the main of this dish.
Time to put together
Mentioned inTamago Origirazu with Cucumber and Bacon – it may seem like a complicated dish when you first start to wrap them up but once you get a hang of it, you can use this phrase to describe it as "a piece of cake". To ensure the onigirazu is tightly wrapped up, make sure you start and end with rice.

This dish is best made in the morning with fresh rice and eaten the same day! As leaving it overnight in the fridge will give you dry and hard rice. After getting a hang of it, this could be your lunch staple.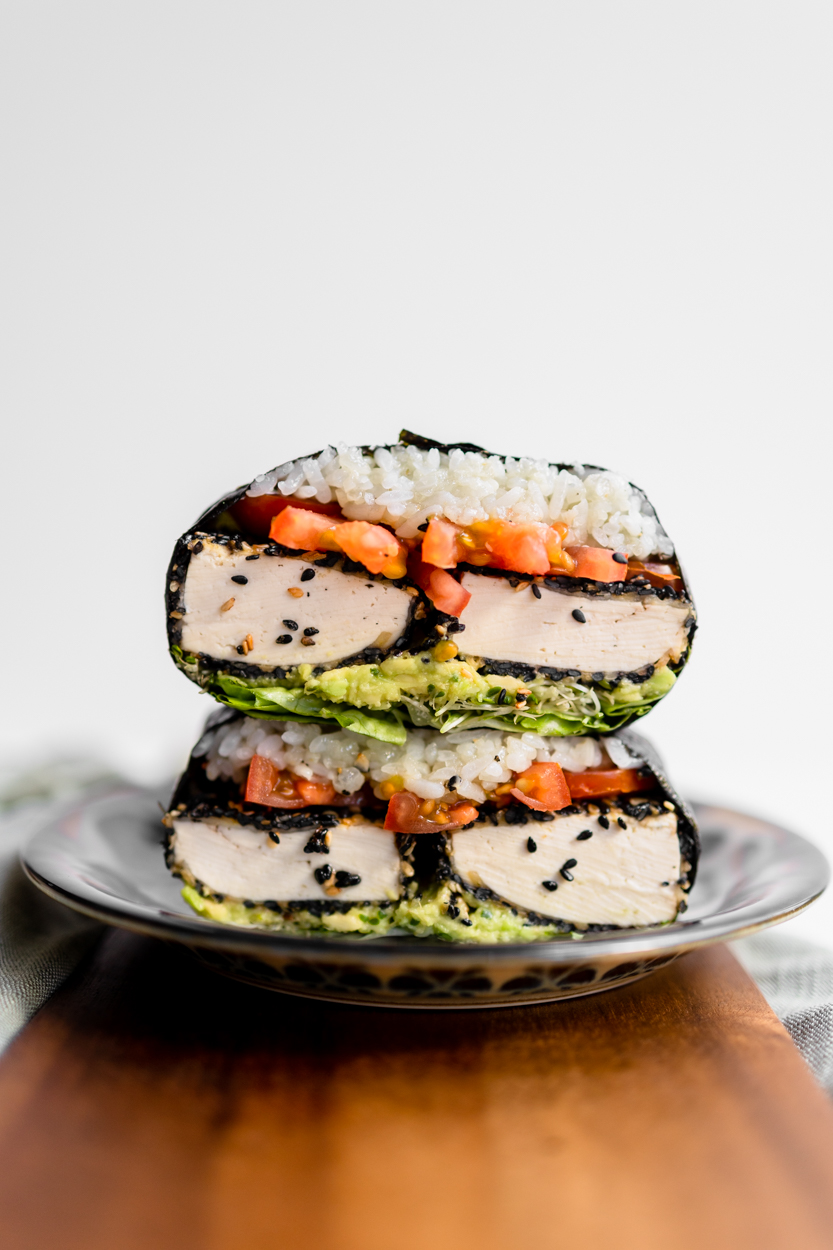 Doesn't it look simple? A vegan option for a healthier health ! If you make this Avocado Tofu Onigirazu, don't forget to tag us on Instagram as @leplaincanvas and use the #byplaincanvas hashtag. We love seeing your takes on our recipes! 

xoxo, Joe
Avocado Tofu Onigirazu
Ingredients
Crispy Sesame

7 ounces extra-firm tofu, drained and cut into 4 (1/2-inch thick) slices

2 tablespoons soy sauce or tamari

1 teaspoon toasted sesame oil

1 teaspoon rice vinegar

1 teaspoon light brown sugar

1 garlic clove, grated

1/2 teaspoon grated fresh ginger

1/3 cup white and black sesame seeds

1 egg

olive oil spray

Greens

1 avocado, mashed

Cherry Tomatoes, halved

Lettuce

Bean sprouts

2 cups of cooked sushi rice , room temperature

4 sheets of nori
Methods
Prepare the Rice: Place rice in a large saucepan, add water to cover, and swirl rice with your hand (water will become cloudy). Drain through a fine-mesh sieve and return the rice to the saucepan. Repeat the process until the water is clear when mixed with rice (3 or 4 times). Drain rice a final time and cover sieve with a kitchen towel; let rest 15 minutes (this will help the grains hydrate evenly).

Return rice to the same saucepan and add 2 cups of water. Partially cover the pot and bring it to a boil. Stir once, cover, and reduce heat. Simmer until water is mostly absorbed and rice is very fragrant and tender 10–12 minutes. Remove from heat and let rest, covered 10 minutes. Fluff rice with a large spoon, re-cover the pot and let sit 5 minutes before serving. Cool it before use.
Prepare Crispy Tofu: Place the tofu slices on a kitchen towel or paper towels. Place another towel on top and lightly press to remove most of the water from the tofu. Transfer to a shallow dish big enough for the tofu to lie in a single layer.
In a small bowl, whisk together the soy sauce, sesame oil, vinegar, brown sugar, garlic, and ginger. Drizzle half of the marinade over the tofu, then gently flip and drizzle the rest on the other side. Marinate in the refrigerator for 20 minutes to 1 hour.
Preheat an air fryer to 400°F or preheat a regular oven to 350°F.
Place the sesame seeds on a small plate. In a small bowl, beat the egg. Remove each tofu slice from the marinade, allowing the excess to drip off, then dip in the egg. Using a fork, dip in the sesame seeds, coating each side. Transfer to a plate. Spray one side with olive oil, then gently flip and spray the other side. (Discard the excess marinade.)
Wrapping it up: Start with the nori sheet, layer it with rice, bacon, cucumber, tamagoyaki and end it with the rice. Fold the 4 corners to the middle of the nori sheet. Only halved them up before consuming it, we don't want the rice to dry up.