This Avocado Egg Salad will be the most delightful salad to have this hot summer. It's light, healthy and can be served for breakfast, lunch or dinner (I'm always a fan of breakfast items for dinner). But if you'd like to kick your egg salad recipe up a notch and make your stomach happy, it's as simple as adding avocado, tomatoes, and your choice of seafood. Think of it as the California spin on the classic, and we guarantee you're gonna love it!

Avocado, Prawns and Egg are the star ingredients in this summer salad, but just look at all the other goodness we've got here! Creamy avocado – umm, hello! Juicy cherry tomatoes and fresh leafy greens, all tossed through with lemon & olive oil dressing.
A superfood bowl of meal replacement
No single food — not even a superfood — can offer all the nutrition, health benefits, and energy we need to nourish ourselves. However, there are a few foods that can be singled out for special recognition. These "superfoods" offer some very important nutrients that can power-pack your meals and snacks, and further enhance a healthy eating pattern.
Couscous
Couscous might not be the best option when coming to dieting. But couscous is a good source of fibre. Fibre is good for you in a lot of ways. It can stop your blood sugar from spiking and can keep you fuller longer. It also can help lower cholesterol, which can reduce your chances of heart disease. Eat it occasionally as grains/pasta replacement it will bring your meal with lots of

Avocado
One of my favourite food is definitely Avocado. There is no reason to fear that avocados will be fattening, as long as you eat them as part of a healthy diet based on whole foods. On the contrary, avocados have many qualities of a weight loss friendly food.
Egg
The egg is the most important source of all staple food. "Eggs are little nuggets of nutrition, providing protein, choline, vitamin D, lutein and more…" – the expert said. Eggs are indeed high in cholesterol – but they are "good" cholesterol as it's commonly known – and this is one reason why eggs have been found to have little to no effect on heart disease risk.

Leafy Green Vegetables
Consume leafy greens are an important part of a healthy diet. They're packed with vitamins, minerals and fibre but low in calories. Eating a diet rich in leafy greens can offer numerous health benefits including reduced risk of obesity, heart disease, high blood pressure and mental decline.
Lemon & Olive Oil Dressing
This lemon & olive oil dressing recipe is so easy to make! With its zingy, bright lemon flavour, it'll blow any store-bought dressing out of the water. It's zippy, fresh, and bright, it comes together in minutes, and it keeps well in the fridge. With its vibrant lemon flavour, it's a dressing that you'll use for so much more than salad.

Sure, it peps up greens, but it also makes roasted veggies more exciting, adds life to grain bowls, and more. So whisk it up, pop it in the fridge, and start drizzling it over everything. Easy, versatile, and delicious, this lemon vinaigrette recipe is one you'll make again and again.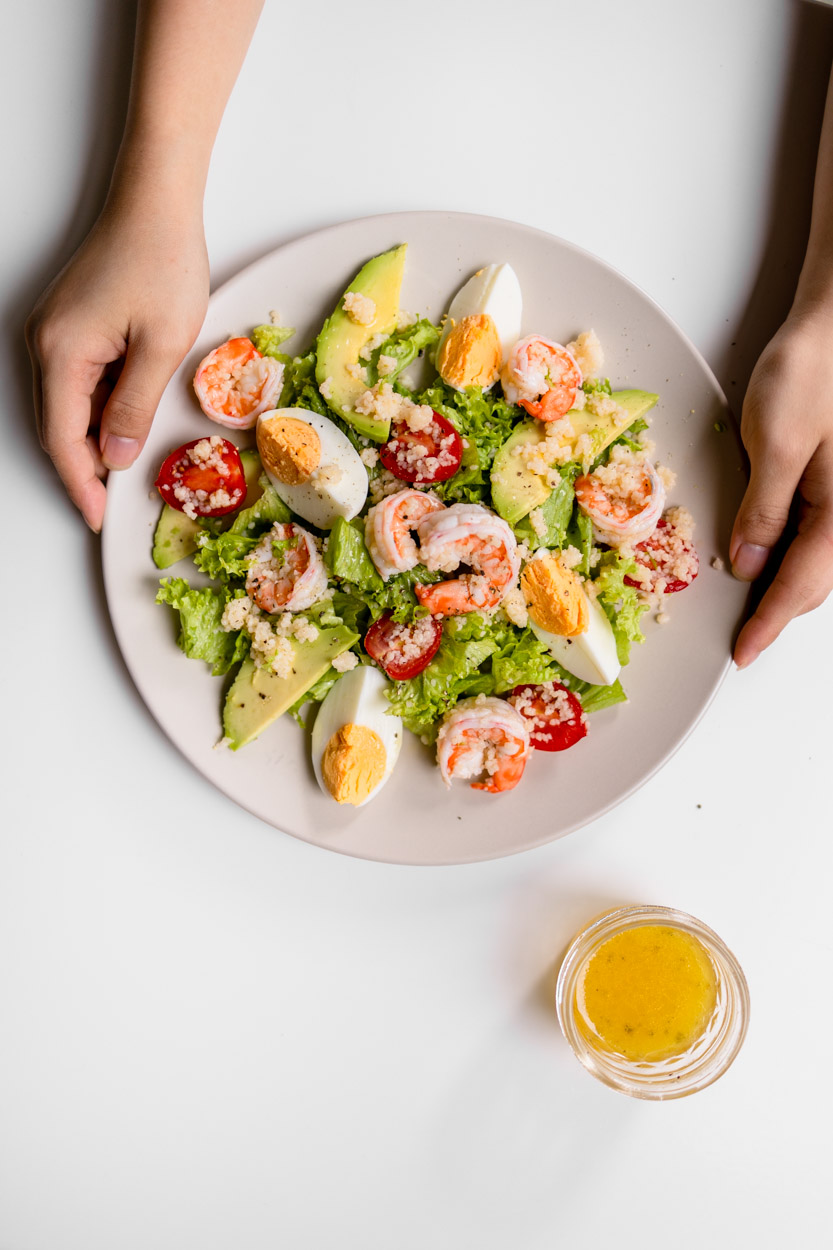 Prep ahead? How long can you Store?
This recipe is best made fresh, but you can store it in the fridge for up to two days. That's less than regular egg salad because after two days the avocados in this recipe will start to oxidise and turn brown. We highly doubt that you'll ever have any leftovers though. In fact, you can easily double or triple this recipe as well.

How do you like to use Avocado Egg Salad? If not you could try other recipes such as;
Watermelon Salad with Cucumber and Feta
Grilled Chicken Salad
Fig Mozzarella Salad
Mixed Tomato Feta Salad
xoxo, Angela
Avocado Egg Salad
Ingredients
1 cup couscous

½ ripe avocado

1 teaspoon avocado oil

3 hard-boiled eggs, chopped

¼ teaspoon salt

⅛ teaspoon ground pepper

2 leaves lettuce

5 baby tomatoes, halved

8 prawn, deshelled and halved

Lemon & Olive Oil Dressing

1/4 cup fresh lemon juice

1 teaspoon Dijon mustard

1/4 teaspoon sea salt, more to taste

Freshly ground black pepper

1/2 teaspoon honey or maple syrup

1/4 to 1/3 cup extra-virgin olive oil
Methods
Lemon & Olive Oil Dressing
In a small bowl, whisk together the lemon juice, mustard, salt, pepper, and honey, if using. Drizzle in the olive oil while whisking and continue to whisk until the dressing is emulsified. Alternatively, combine everything in a jar with a tight-fitting lid and shake to combine.
Salad
In a bowl, combine lettuce, couscous, prawn and tomatoes. Season with dressing, salt and pepper, mix well. Add in eggs and avocado before served.