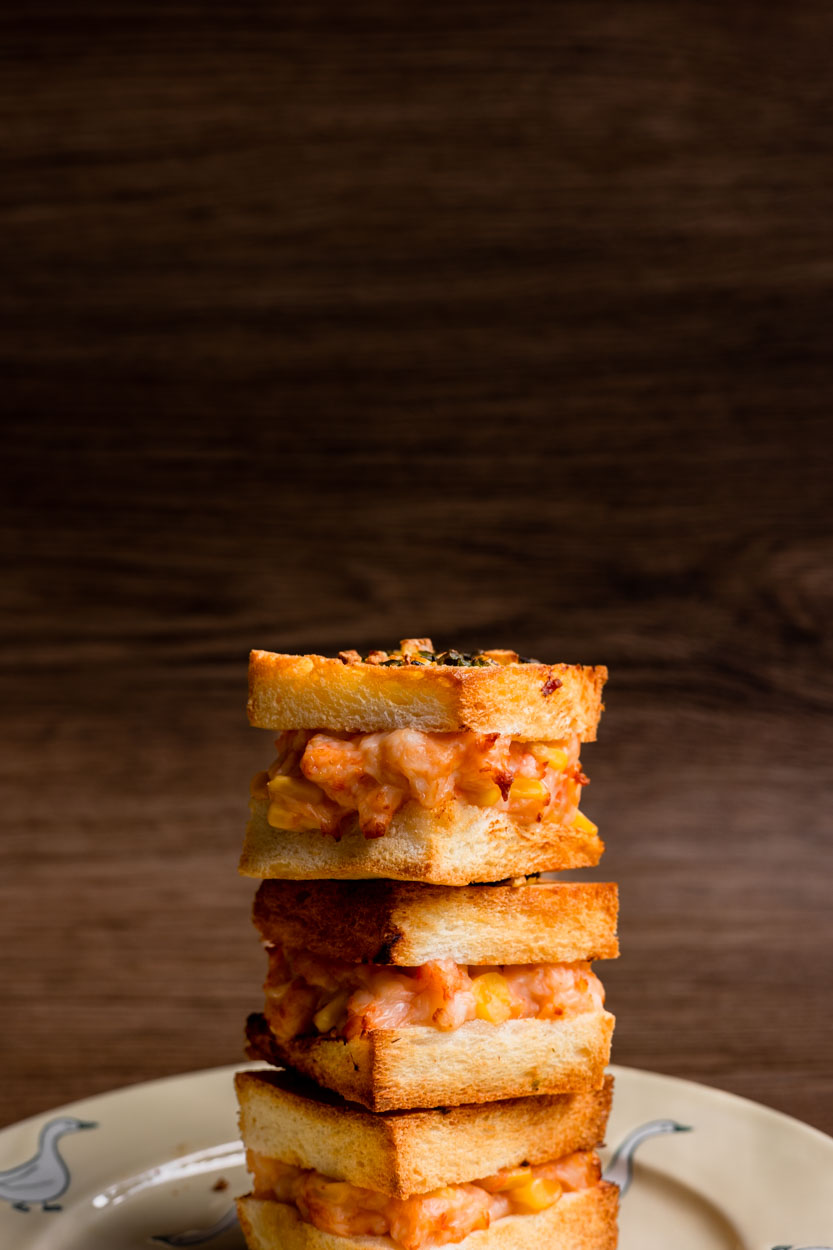 Menbosha, a Korean-style shrimp toast, might be the next best thing you've ever tasted, especially if you're a sandwich lover! Bread is such a versatile ingredient that there are tons of ways to enjoy it. You might have had your sandwiches with avocadoes and honey but have you tried fried shrimp toast? If you love prawns and toast, then menbosha is a perfect dish for you. 
Mian bao xia is a Korean-Chinese dish consisting of marinated shrimp balls sandwiched between milk toasts. Its name originated from the word 'mian bao', which means bread, and 'xia', meaning prawn in Chinese. It is pronounced as "menbosha" (멘보샤) in Korean. 
Mian bao xia is savory with a crispy outer part, whereas it's inside is soft and chewy. Although you can eat it on its own, it can be a bit boring and greasy.  To add more fun, you can enjoy it with a sauce or two! Ketchup and garlic sauce are perfect matches for this dish to add a sweet and tangy taste. 
Homemade Prawn Paste
Cooked smashed shrimps taste a lot better than regularly cooked shrimps.  It carries on the shrimp flavor but with a smoother and slightly crunchy texture, which makes eating these tiny shrimp balls so fun.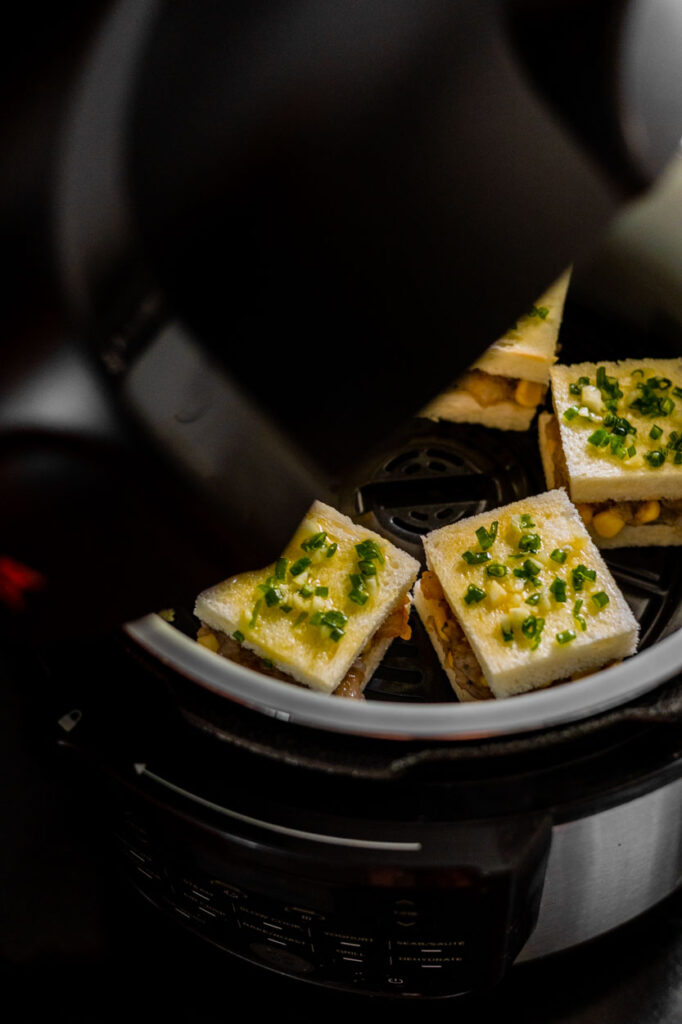 Using an Air-Fryer
Since it is deep-fried in oil, mian bao xia can be very greasy. Therefore, it is better to air-fry it instead as less oil is needed. It also makes the sandwich a bit healthier without sacrificing the crunch and taste. Just brush over a bit of oil onto the sandwich and air-fry at 170°C for 10 minutes.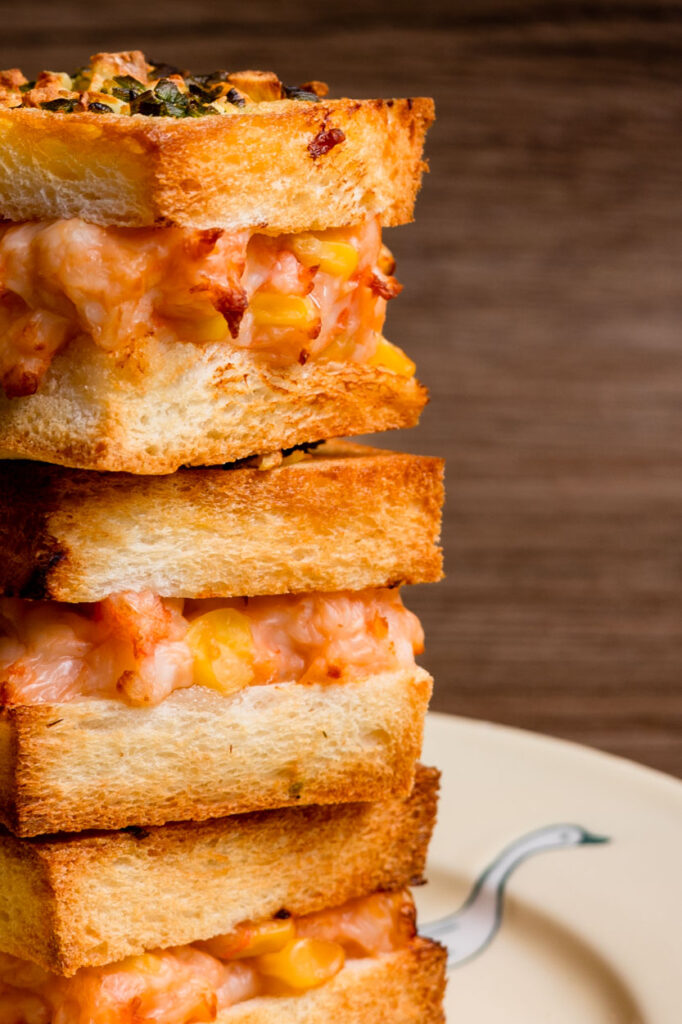 If you try this recipe please tag #byplaincanvas on Instagram. We love to see your photos of our recipes! Also, follow us on Instagram to keep up on what we're cooking up.
xoxo, Joe
Air-fryer Prawn Toast
Ingredients
4 slices of bread

2 cloves of garlic, minced

2 tbsp of melted butter

Prawn Paste

1 lb shrimps

1 egg white

1 teaspoon cornstarch

1/4 teaspoon ground white pepper

1/4 teaspoon ground ginger

1 to 2 teaspoons rice cooking wine

salt to taste
Methods
Prawn Paste
Peel and devein shrimps.  There are peeled and deveined frozen shrimps sold in the store.  However, all this extra factory processing weakens part of the shrimp flavor.  I always buy whole shrimp and clean them at home.  That is some extra work, but well worth it in the end.
With a cleaver knife, finely chop the shrimp. Try not to use a food processor here.  The texture would be a lot different.
Add egg white, corn starch, ground ginger, ground white pepper, rice cooking wine, and salt to taste.
With a pair of chopsticks or a whisk in hand, whisk well clockwise.  The trick is to whisk hard and always in one direction.  Do not whisk clockwise for 1 minute and counterclockwise for the next minute.
We whisk for almost 10 whole minutes.  It is hard work.  The texture of smashed shrimp depends on it.
Refrigerate for at least 1 hour.