This year Lunar New Year came early – while the Christmas and New Year have just barely ended, the festive season continues in the Chinese community. While we have lots of auspicious dishes, hotpot (aka steamboat) is the most popular gatherings ways of eating at all times. We believed that it is also the most easier way to serve a huge group of people and families.

Like a summer barbecue, a Chinese hot pot party is as important as a social event as it is a meal, where friends and family gather and cook around a common pot while chatting and sipping beer. The great thing about a hot pot party is, it's easy to prepare and very affordable. Plus, a group of people can share so many ingredients, so everybody has an opportunity to try out a variety of things, as well as enjoy their favourites.
Hot pot is a Chinese cooking process. A big pot is set in the centre of the table containing boiling hot broth with a heating element underneath. Various raw ingredients are served around the pot, such as thinly sliced meat, seafood, vegetables, tofu, dumplings, and noodles. The guests cook the ingredients in the broth and eat them with a dipping sauce.
Broth/ Soup Base
There are many different styles of hot pot in China, depending on the region. The primary difference from region to region is the broth. Choosing the type of broth is one of the most important considerations when planning a hot pot party because all the food will be cooked in this broth. So it's essential to choose a flavour that pleases all your guests.
For our family, we don't have a habit of heavy sauce-dipping, therefore, we take the soup base seriously. Although, there is so much option of soup base sell outside commercially. Our family continues our maternal-grandmother and mother's tradition – we will cook our own pork bone broth at home. The reason we prefer pork bone broth is that having hotpot could be heaty and we do not wish to worsen it for our health. (Usually, if I have Chicken soup, I have fever and throat issues easily.)

– Pork Bone Broth
– Chicken Broth
– Seafood Broth
– Mala Broth
– Japanese-styled Broth (e.g. Shio/Soyu/Miso)
Condiments and Staple food
While preparing hotpot (aka known as steamboat) we would never forget both condiments and the staple food (like rice, noodles, and dumplings).

Following are some of the basic types of condiments you will use:
– Oils (e.g. Sesame Oil, Chili Oil)
– Sauces (e.g. Soya Sauce, Yuzu Sauce, Goma Sauce)
– Garnishing (Garlic, Corriander, Chilli, Sesame, Spring Onion)

Type of Staple Food:
– Rice
– Noodles (Rice Noodle, Udon, Glass Noodles, Ramen, Vincelli Noodle)
– Matou
– Dumpling
Now is the fun part. I love shopping for hot pot ingredients because you have practically unlimited options. And it's a fact that almost everything will taste good thrown into a hot pot. Here are a few food groups that I recommend. It's almost impossible to make a grocery list when it comes to hot pot ingredients because each grocery store carries so many different things. You should check out each food group and try to get a few diverse items from each group.
Meat and Seafood
Some of my personal favourites include sliced beef, sliced lamb, and fish balls. Ideally, you should shop for these ingredients at a supermarket. Because you can find machine-sliced meat that is intended for use in the hot pot. You can find these meats in the freezer section. The meat slices are rolled and packed in plastic containers.

Of course, you can always buy the meat and cut it at home. In this case, you'll want to buy some well-marbled meat and slice it as thinly as possible, so the cooked meat will remain juicy and tender.
For those who are not huge fans of meats, seafood is is another amazing option for Hotpot. Seafood such as shrimp, squid, and sliced fish filets all work well in the hot pot. There is also the option like;
– Fish
– Shellfish (Prawn, Oyster, Clams, Mussels)
– Prawn Paste – we make our very own version of prawn paste which is very similar to the HaiDiLao steamboat that we like
– Fish Maw
– Octopus
One thing to remember is to never leave the meat in the hot broth and forget about it. The thinly sliced meat usually needs less than 30 seconds to cook through. What I usually do is hold the meat with my chopsticks and dip it in the hot broth, then immediately take it out when the colour has just changed to cooked (or medium-rare, sometimes).
Seafood needs to be cooked according to the same rule, that you always want to keep an eye on it so it won't overcook.
Tofu and soybean product
This food group is always a star at a Chinese hot pot party because there are so many varieties. There are tofu slices, beancurd sheets, fried tofu, cheese tofu, etc. All of them are made from soybeans but they have very different textures. The great thing is that they soak up flavour really well, so they taste so good when cooked in a hot pot.

Tofu usually requires the longest cooking time. So it's very common to add a few pieces at the beginning of cooking and fish them out after 10 minutes or longer when you're ready to eat them. The various tofu products require relatively little cooking time but they hold their shape well even when you cook them a bit too long. And they are edible even when cold, so they are ready to eat when tender and heated through.
Vegetables and Eggs
Another must-have on my hot pot table. Not all vegetables are created equal when it comes to the hot pot. The types that work best are leafy greens and root vegetables. For example, our current favourite Chinese Lettuce (油麦菜). For mushroom, although regular white mushrooms work well, do venture out and try out some different types. Some of my favourites include golden needle (enoki) mushrooms (separated into smaller threads), shimeji (separated into smaller bunches), king oyster mushrooms (sliced), and shiitake mushrooms (sliced or halved).

The smaller mushrooms only take 2 to 3 minutes to cook, versus the large shiitake mushrooms, which can take 5 minutes or more.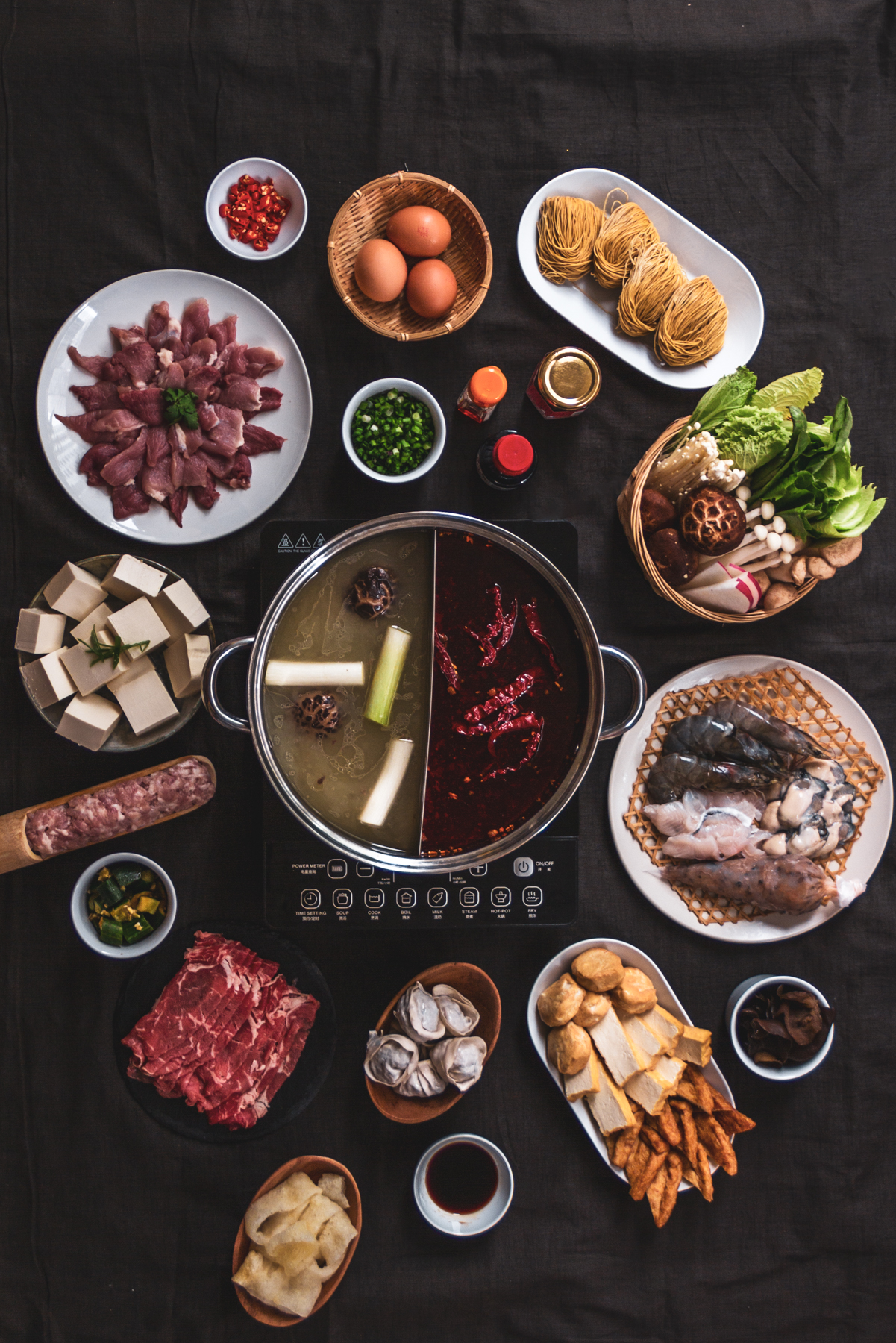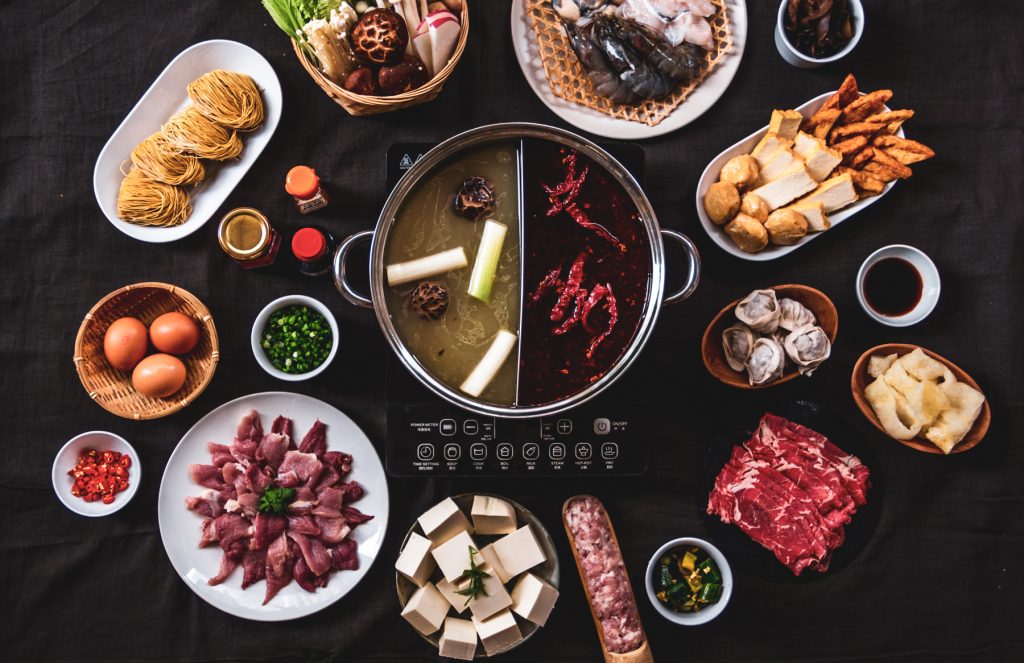 The prep you'll need for a hot pot party at home
The best thing about preparing a hot pot party is that it requires very minimal prep work. All you need is:
1. Consider the dietary restrictions of your guests, then decide the type of soup broth you will serve. Also, you need to plan based on the number of guests. A big hot pot usually serves six people perfectly, but could possibly serve eight. If you have more guests, you'll need to consider setting up two hot pot sets, so your guests will have enough room to cook and will not be waiting forever for small amounts of food.
2. Shop for the ingredients, preferably at an Asian market where you can get everything you need. If there are no Asian markets where you live, you might want to plan a few days ahead and order some of the ingredients and equipment online.
When shopping for food for the hot pot, you simply need to consider the amount of meat and seafood. I usually prepare 4 to 8 ounces of meat and seafood per person. And I usually get plenty of other ingredients so I have a beautiful spread of food. I'll save all the leftovers and use them to cook soups and noodles in the days following the party.
3. On the day of the party, wash and chop all the ingredients. Prepare the dipping sauces. Add the hot pot base and water into the hot pot, set it on the portable stove and place it in the centre of the table. Prepare a slotted ladle on the side. Arrange all the ingredients around the pot. Prepare one to two small bowls, one plate, and one pair of chopsticks for each person.
Lastly, happy cooking and I wish you a successful hot pot party!
If you give this recipe a try, let us know! Leave a comment, rate it (once you've tried it), and take a picture and tag it @leplaincanvas on Instagram! I'd love to see what you come up with.
xoxo, Angela