It's been far too long since I shared a hummus recipe. We love hummus so much that we keep on making new flavors. However, we've been neglecting to come up with anything new. Fortunately, we're making up for lost time with one of the best hummus recipes we've made (or eaten) in a while. We made it on Sunday, and nearly all of it is gone.
The star of this hummus recipe is, of course, roasted carrots. Roasted carrots are one of my favorite things so it almost feels wrong to throw them into a food processor and blend them into hummus. But, having made an enormous tray of them over the weekend, we figured we could spare a few.
And we're so glad that we did. As the subtle flavor and color that they add to this hummus recipe are truly special.
You can make this hummus in a food processor. If you'd prefer to use raw carrots to cooked that's fine. Shred them finely if you use your food processor for this; the food processor can certainly handle raw carrots, even if they're not so finely shredded! And you'll want to reduce the amount to 2 or 3 carrots since roasted carrots shrink a little.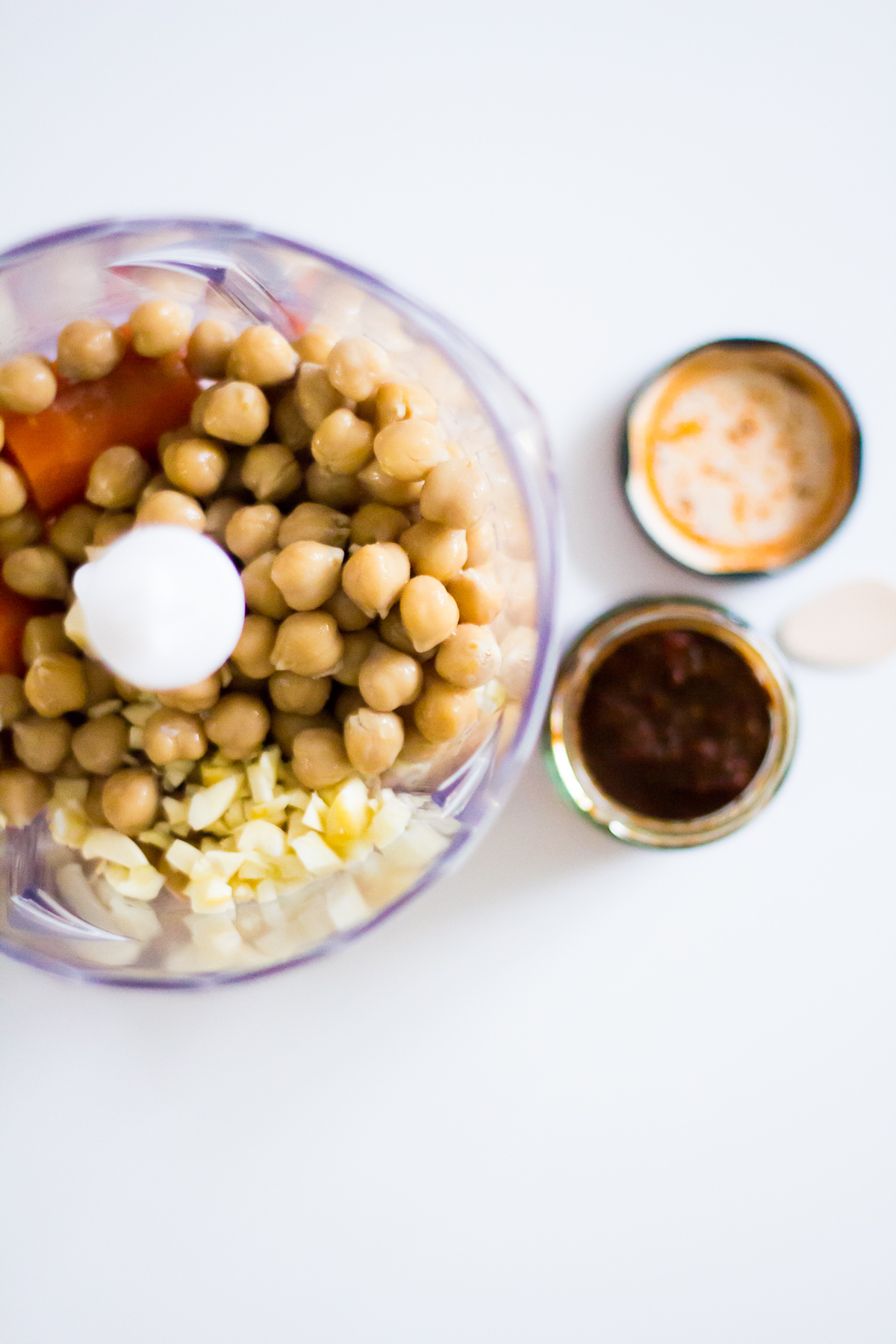 One of the ingredients we added spiced up the hummus and it is rose harissa. I am pretty sure you all know about harissa. Rose Harissa is the next sriracha sauce. By that, I mean the chili sauce you're going to want to splatter on all your foods. Just a little bit of it in the hummus, it covers up the rawness of the carrots.
We usually don't include too many herbs and spices in the sauce so we can add it to any meal without having a conflict of taste. But Rose Harrissa is one of them that we loved to have in our food.
Ingredients |
4 large carrots, roughly chopped
2 tablespoons olive oil
Sea salt or kosher salt and black pepper to taste
1½ – 2 cups chickpeas, cooked
¼ cup tahini
1 tsp of rose harissa
1 clove garlic, roughly chopped
2 tablespoons lemon juice
1 tablespoon olive oil and sunflower seed, for drizzling (optional)
Method |
Preheat the oven to 400F. Toss the carrots with the olive oil, salt, and pepper. Place them on a baking sheet and roast for 20 minutes, or until tender and browning along the edges.
Place the chickpeas in a food processor or Vitamix along with the carrots, olive oil, salt and pepper, tahini, rose harissa, garlic, and lemon juice. Pulse a few times to break it all down. Turn the motor on and drizzle in ½-2/3 cup water slowly, stopping often to scrape the container down. Use your judgment on how much water to add; I used the ⅔ cup, but less might be sufficient to obtain a creamy texture.
When the hummus is perfectly smooth, transfer it to a serving dish and drizzle a tablespoon of olive oil over it. Serve.
Share with us your version! Take a photo of yours, send us an email, tag us on Instagram, tweet us, anything. We love to see yours!
xoxo, Joe