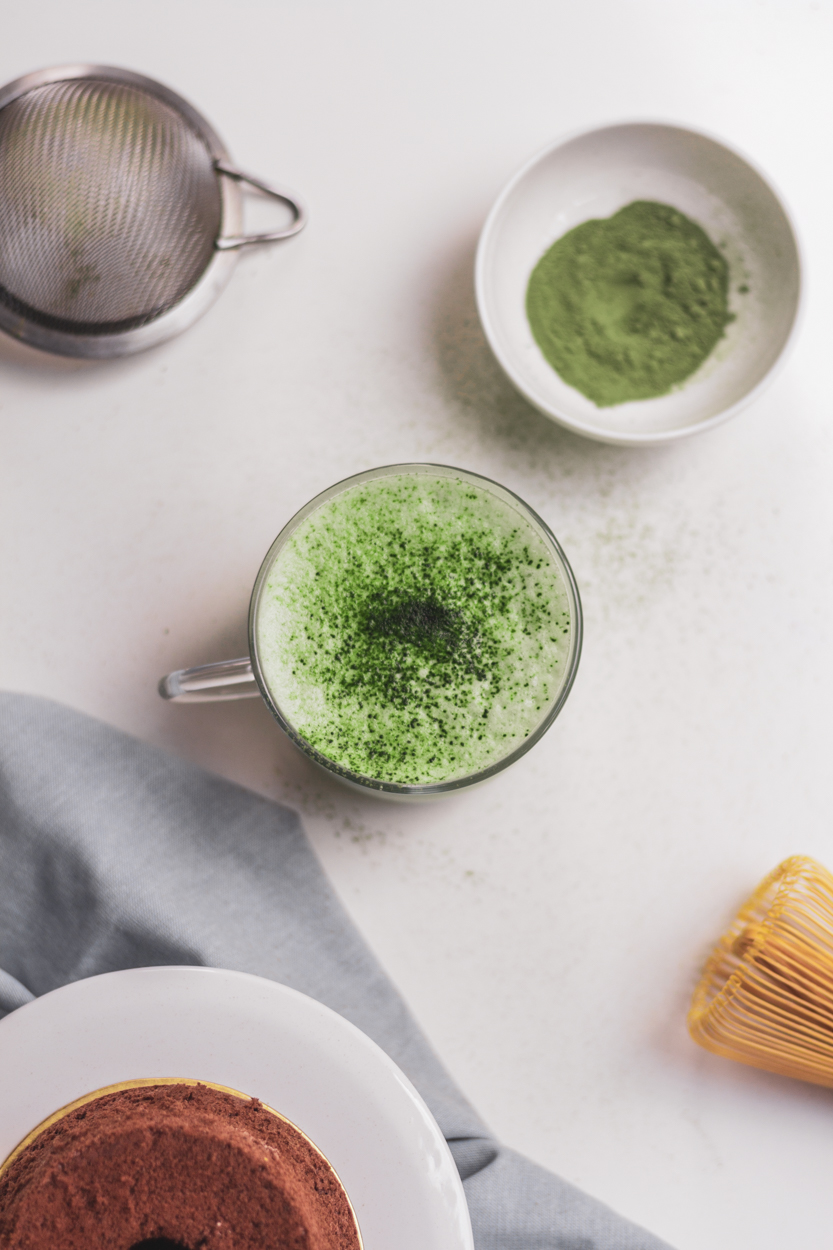 One of my guilty pleasures was to swing by Starbucks in the afternoon to get their Matcha Green Tea Latte (with just one pump of syrup). Usually, by the afternoon, I've already had my lunch, so I need something with a mild sweetness for my midday pick-me-up. A smooth cup of matcha green tea latte is just perfect.

But for now, we try to stay home as much as possible, thus we decided to make ourselves at home. Glad that there is always some matcha powder around in our cabinet. We use the powder for many of our green tea baked goods, but it just never crossed our mind to use it for our daily cup of latte.
It's a slightly bittersweet taste of matcha when blending in with milk and a tiny bit of sugar, it makes the perfect cup of drink. On a chilly day, the warm latte tastes extra good as we take slow sips from the cup. If you prefer the iced version of the matcha green tea latte, it is as easy as using cold milk and adding in ice cubes.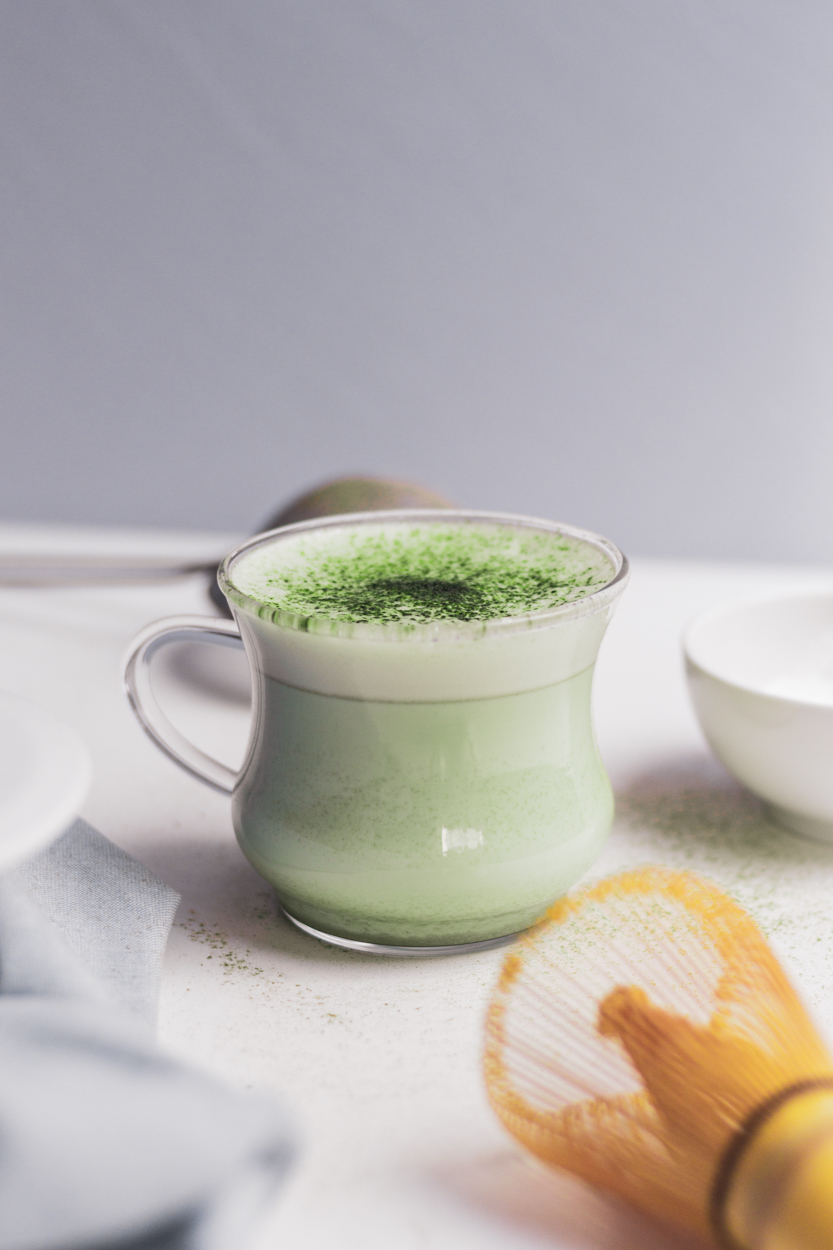 Interesting facts of Matcha
Matcha is made from high-quality tea. Professionals mentioned it provides small amounts of vitamins and minerals, matcha is rich in antioxidants called polyphenols, which have been tied to protection against heart disease and cancer, as well as better blood sugar regulation, blood pressure reduction, and anti-ageing.

Hence, for those who don't know, it contains caffeine! Because you're consuming whole leaves in matcha, you may get three times as much caffeine than a cup of steeped tea, about the amount in a cup of brewed coffee. 

The preparation of matcha is the focus of Japanese tea ceremonies, and it has long been associated with Zen. This is likely one reason it's becoming so popular, as meditation is becoming more and more mainstream.
Ways to Froth Milk
Frothing wand; Warm your milk. Immerse your frothing wand in the milk and turn on. Whisk, creating a nice swirl of milk, until frothed to your liking.
Blender; Pour your warm milk into a blender and blend on medium speed until frothy. Make sure to cover the lid of your blender with a dish towel—you don't want hot milk flying all over your kitchen! (Our method!)
Immersion blender; Warm your milk in a large, deep pot. Place your hand blender in the milk, making sure the blades are immersed. Turn the blender on low, and blend until frothy. This method creates nice foam, but we can't really recommend it because it is very messy!
Pump frother; You can purchase a special pump-style frother. It makes lovely, creamy foam.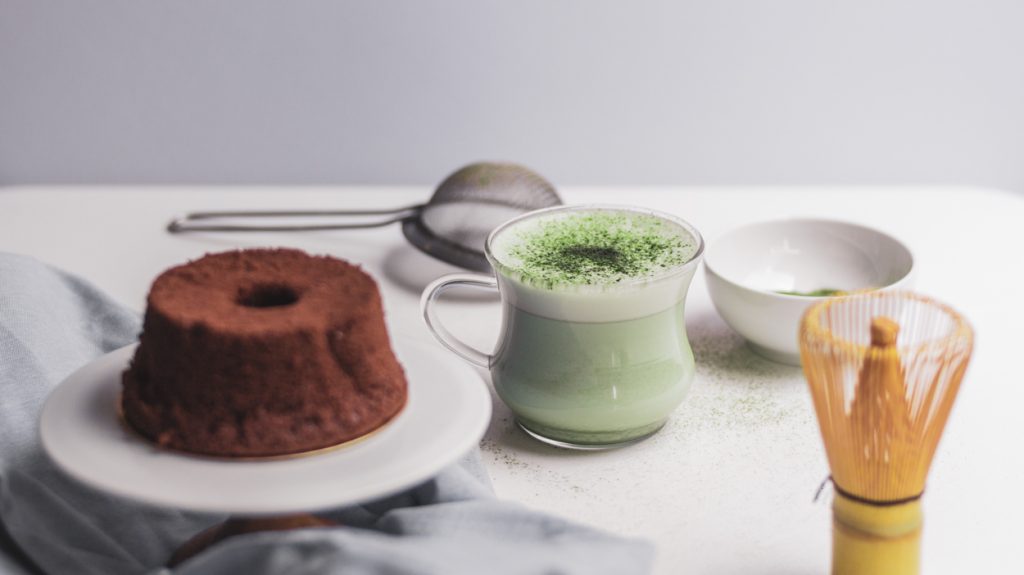 How's everyone been coping with #quarantine at home recently? Getting stress up from staying too much at home? Take a break and have a cup of Green Tea Latte, as matcha help to relieve stress too. Take a photo of your version, send us an email, tag us on Instagram, anything. We love to see you trying out our recipe!
xoxo, Joe
3 Minute Matcha Latte
This recipe shows you how to make a creamy and frothy cup of Matcha Green Tea Latte. Enjoy this delicious drink at home by mixing bitter sweet matcha green tea with warm milk.
Ingredients
1 1/4 cup milk (any kind you prefer)

1/3 cup water

1 teaspoon matcha or 1 1/2 matcha bamboo scoops + more for dusting

optional: honey or sugar
Methods
In a bowl, whisk together water and sifted matcha powder until all clumps are gone.
Heat (don't boil) then froth milk. Put milk in a mug and then pour in matcha tea.
Add honey or sugar to sweeten then use a mesh strainer to add a dusting of matcha powder on top.