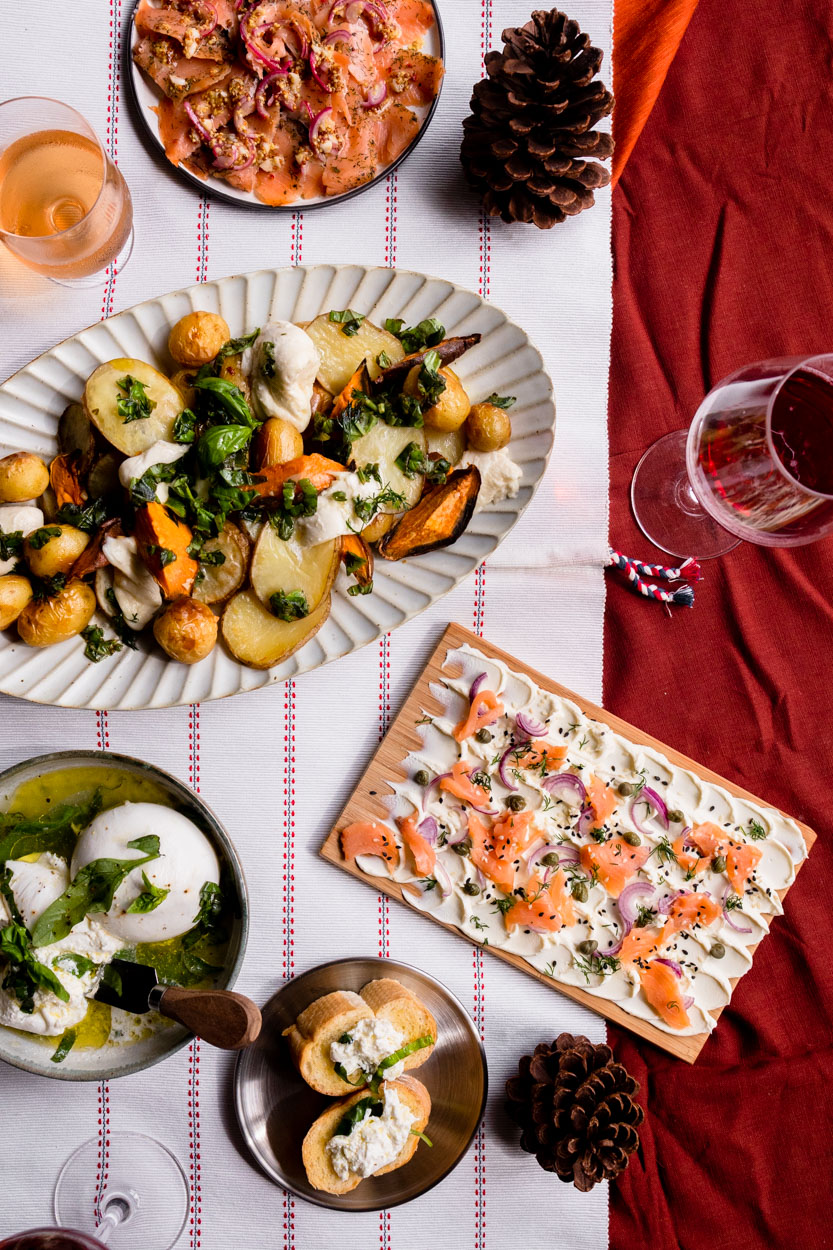 What better way to get your holiday started off right than with these festive Christmas appetizers? If you need to satisfy a crowd before your holiday dinner, keep them happy and snackin' on these deliciously filling apps until you're ready to serve up the main meal.
Cream Cheese Smoked Salmon Board
The TikTok viral butter board really got my attention until…we were scrolling through Instagram several days ago and saw someone take the butter board trend and use cream cheese and smoked salmon…one of our favorite combinations!

It's really so easy you don't need a recipe and you can make this board for as many or as few people as you like. There is no cooking required, it makes a beautiful presentation and as we said above, it is so yummy that you won't even believe it! We can't think of a season or an event that this board wouldn't be perfect for…Christmas morning (definitely happening here), a cocktail party appetizer, drinks on the porch, by the fire, and even dinner for 1 or 2! It's seriously that good!
Lemon Burrata with Basil
We love an easy starter to kick off a dinner party or to enjoy with a pre-dinner cocktail. Isn't it great when you can combine a few fresh ingredients on a plate and call it done?! Creamy burrata blend with grassy olive oil, lemon zest, and sweet basil for a satisfying spread on toasted ciabatta. Pair it with a young, crisp Pinot Grigio or white sangria for a festive start to your special occasion.
On the surface, it looks like a ball of fresh mozzarella, and it sort of is. On the inside, it's a velvety mixture of cheese curds and cream wrapped up in a shell of mozzarella cheese. Burrata hasn't been around as long as mozzarella and was invented as a way to make use of mozzarella scraps to reduce waste in the cheesemaking process. Brilliant! A great choice for those wants to try something new.
Mixed Roasted Potatoes With Mozerella
While this is more like a side dish for a meal, there are times we also like to have it as an appetizer. With Christmas right around the corner, it seems like mashed potatoes and potato gratin are all the rage. Sure, these classic potato recipes are tasty, but oven-roasted potatoes offer something totally different and equally delicious. If you're looking for a last-minute holiday side dish that your guests will love, this recipe is the one for you. Here's why:
Crispy potato skins. Is there anything better than crisp, puffy potato skins straight out of the oven?
Creamy middles. Those crave-able, golden brown edges give way to super creamy centers, so each bite has an amazing mix of textures.
The dressing. Honestly, it's tempting to devour these roasted potatoes straight off the sheet pan, when they're simply tossed with olive oil, salt, and pepper. But I like to take them one step further. While they're still warm, I toss them in a bold, zingy vinaigrette made with lemon, Dijon mustard, and rosemary. Once the potatoes absorb it, they become bright, rich, and totally irresistible.
Clearly, we're hooked on these easy oven-roasted potatoes. Whether you make them for a holiday meal or for dinner any night of the week.
Spicy Smoked Salmon
are fantastic appetizers or finger food, and perfect for entertaining. Smoked salmon, dill, and mustard are combined to create an easy savory starter. If you love smoked salmon, you have to try these easy salmon "dips"! They look really fancy, and perfect for entertaining, but they are also easy enough to prepare for brunch.
Whether you're looking to make a simple appetizer for Christmas dinner, or you're trying to impress guests at a birthday party, this recipe is a guaranteed hit. Spicy smoked salmon has a very mild and pleasant flavor, which is sure to please a crowd.
What do you need?
Smoked salmon: Cold smoked salmon or smoked trout will both work well. If you use frozen smoked salmon, you will have to defrost it before use.
Whole grain mustard: Unlike mustard, whole grain mustard is a prepared condiment that is only partially blended, with some of the mustard seeds still visible, creating an overall coarse and slightly pasty texture.
Dill: Fresh dill is a great pairing with salmon and cream cheese. It is however optional, so you can omit it if you prefer, or substitute it with parsley.
Red Onion: The key to this dish is this small red onion, it will elevate the dish.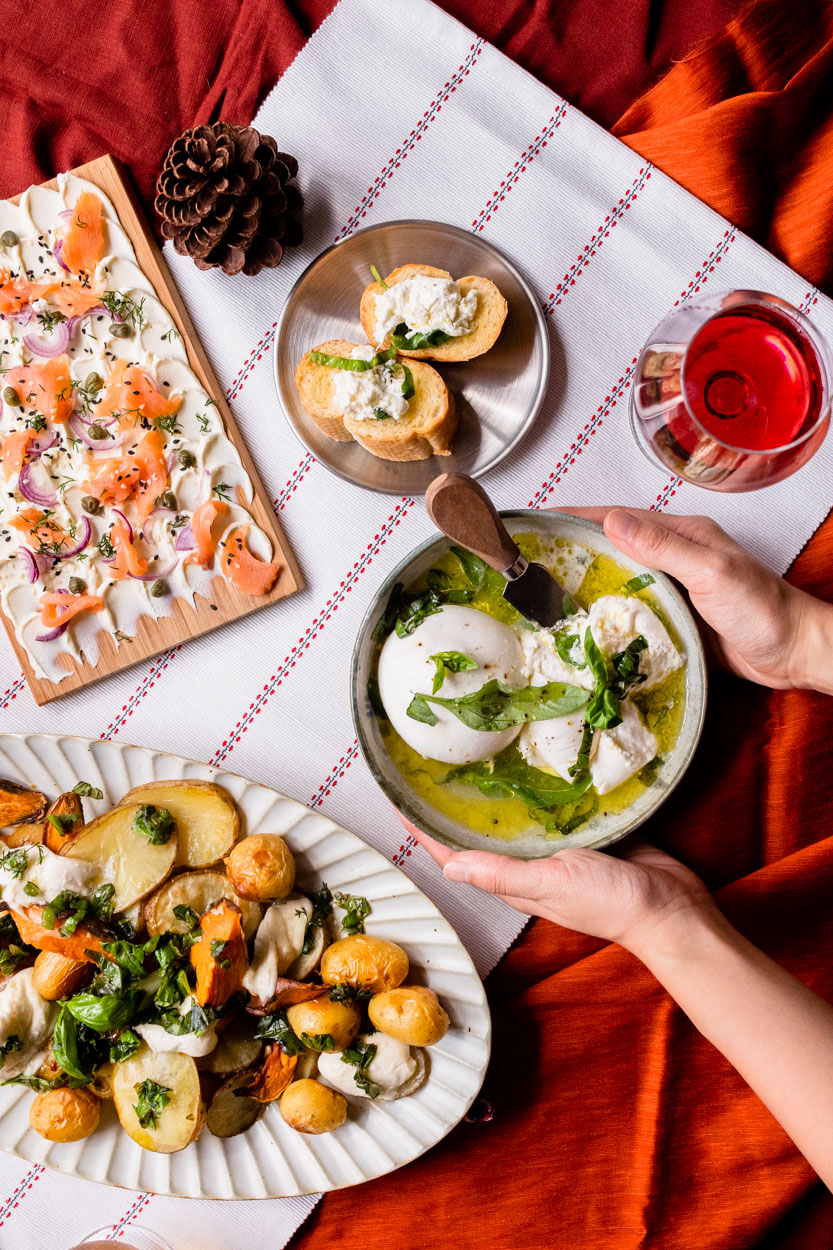 If you recreate any of these appetizers for Christmas let us know how you liked it by leaving a comment and rating below or by tagging us on Instagram, we love seeing all of your tasty recreations!
xoxo, Joe
4 Quick Holiday Appetizers this Christmas to impress your Family and Friends
Ingredients
Lemon Burrata with Basil

8 oz burrata cheese

3 tbsp olive oil divided

1 tbsp fresh basil sliced

1 lemon zested and squeezed

1 baguette sliced

1 clove garlic halved

Mixed Roasted Potatoes With Mozerella

2 pounds mixed potatoes, halved or quartered (mini potato, sweet potato, baby potato)

extra-virgin olive oil, for drizzling

sea salt and freshly ground black pepper

finely chopped parsley, for garnish

1 whole mozzarella

basil leaves for garnish
Methods
Lemon Burrata with Basil
First, preheat the oven to 350°F for toasting the ciabatta.
Place the burrata in a serving dish and set aside to rest at room temperature while you prepare the remaining ingredients.
Combine chopped fresh basil, lemon zest, chopped garlic, and one tablespoon of good-quality olive oil in a small bowl. Add a pinch or more of crushed red pepper flake and flaky salt to taste. Let the flavors mingle while you toast the bread.
Mixed Roasted Potatoes With Mozerella
Preheat the oven to 350 degrees.
Place the burrata in a shallow serving bowl, and set it aside (it's best served at room temperature).
Combine the basil, lemon zest, garlic, and 1 tablespoon of olive oil in a small bowl. Add crushed red pepper and salt to taste. Let the flavors mingle while you toast the ciabatta.
Place the ciabatta slices on a sheet pan + brush them lightly with 1 tablespoon of olive oil. Toast them in the oven for 4 to 6 minutes.
Arrange the toasted ciabatta in a serving dish or basket. Spoon the basil mixture over the burrata. Drizzle the last tablespoon of olive oil around the bowl.
Here's the best part — slice into the burrata to let the gooey middle flow into the bowl. Scoop the cheese onto your ciabatta and enjoy!