Beef flank steak is never a part of the beef that we will be considering for our dish at any time, our top choices are usually ribeye, striploin, or the t-bone. As to cook a steak, fats in it play an important role, thus comparing flank with other parts it is lean and close to 0% of fat in it. However, it changes our mind about this meat after trying them.

It is lean but much more flavourful compared to other premium parts of the beef. Matching it with the chimichurri sauce, elevate the flavour of the steak to another level – making it a perfect and economic dish for your Christmas.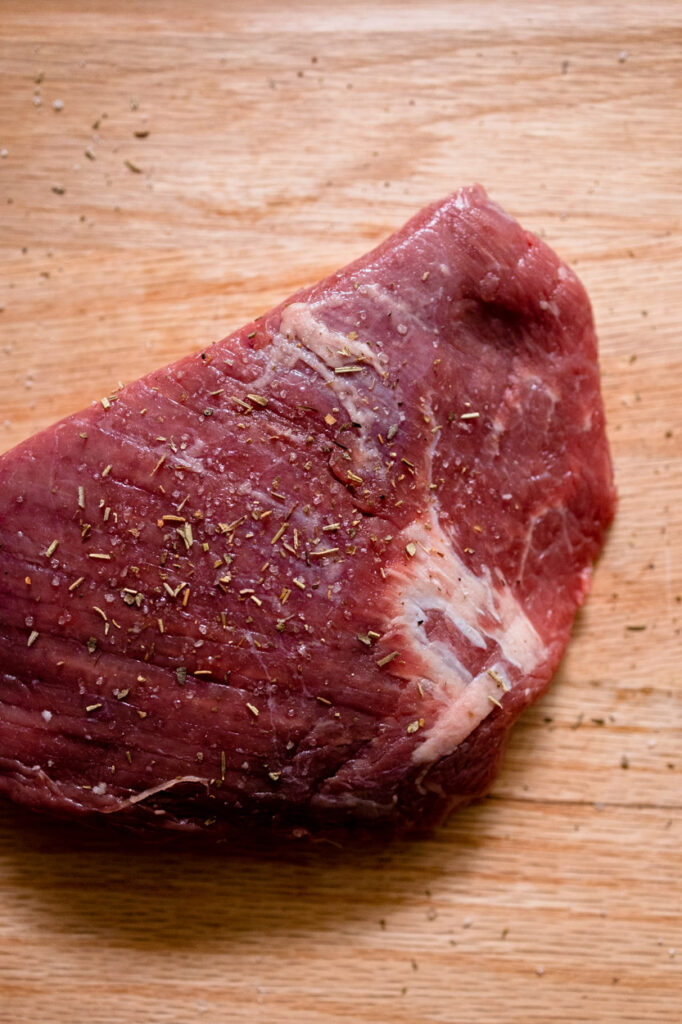 Choosing the right steak
While it is uncommon to see flank steak in your local supermarket as it is a rare part where people usually eat. We are only able to obtain it with our special trip down to our favourite butches. If you couldn't find flank steak, replacing it with skirt steak does the magic too.
Preparation of flank steak
Learning this method from a simple recipe works very well here. Her favourite method of preparing flank steak is to put little knife pokes in the meat, breaking up some of the long muscle fibres. It will help to reduce the toughness of the steak.

We use our favourite cast iron for the steak, as usual, heat the pan with olive oil well before doing your magic. Pan-fry both sides of the steak for 6 minutes each for a medium-rare steak. Like Gordon Ramsay shouted, "do not flip the steak, wait patiently and let the pan do its job." After cooking, let the rest on the board for 10 minutes before slicing it up. One big mistake made in all steak cooking is to slice it up immediately, doing so will lead to the loss of moisture from the steak and you don't want that.
Chimichurri Sauce – elevating the flavour of meat
Chimichurri Sauce has been coming across to us many times and finally, we are able to try it. Chimichurri Sauce is an Argentinean sauce or condiment, similar to pesto, that is popular throughout South America. This basic version uses fresh parsley, oregano, garlic, oil and vinegar and a little bit of chilli pepper, (which is what we are going to do here) though the variations on this theme are endless. We adapted from our favourite website Bon Appétit, which is so delicious and simple to make.
Ingredients needed:
shallot
garlic clove
red wine vinegar
cilantro
flat-leaf parsley
fresh oregano
extra-virgin olive oil
Using our trusty Kitchen Aid mixer we mix all the dry ingredients into small pieces before adding in the olive oil and red wine vinegar. You can make this sauce a week ahead and keep it well in the fridge for marination of meat and seafood, or you can use it as a sauce as we do it here.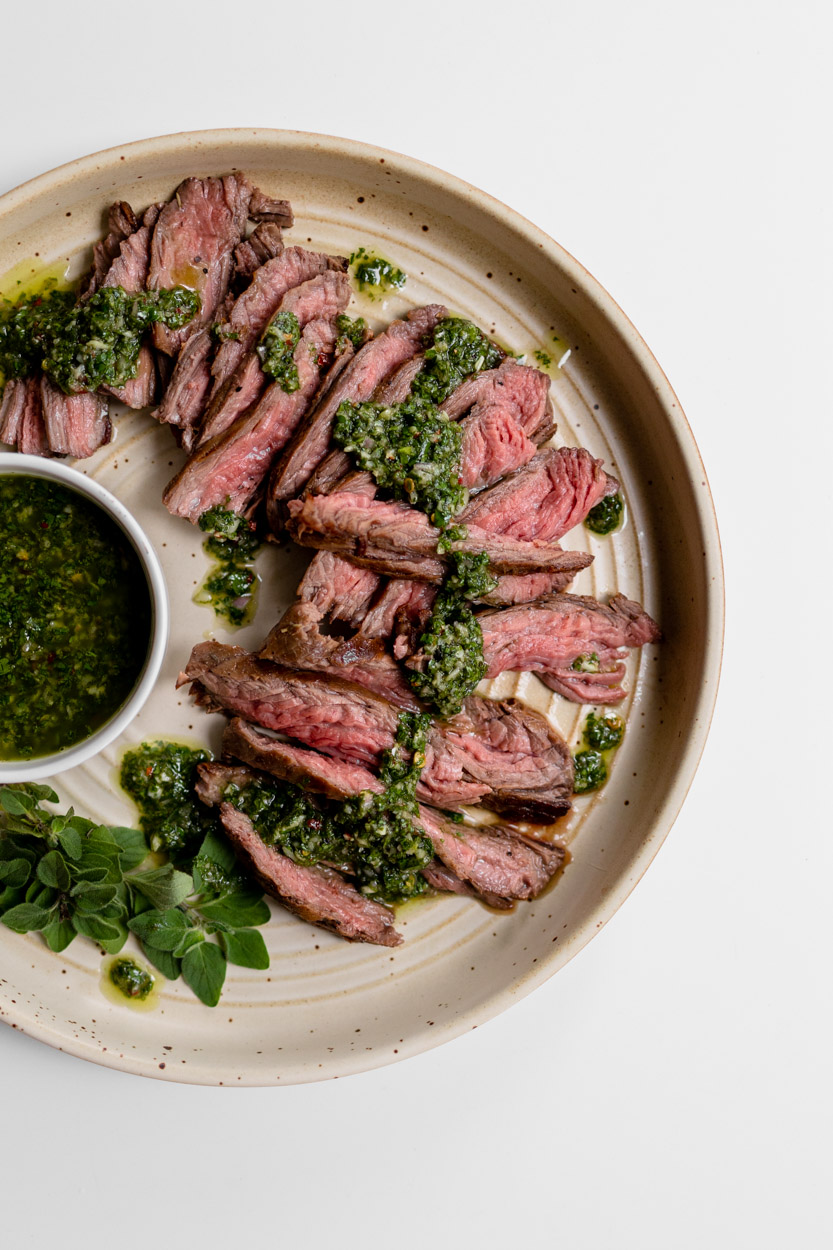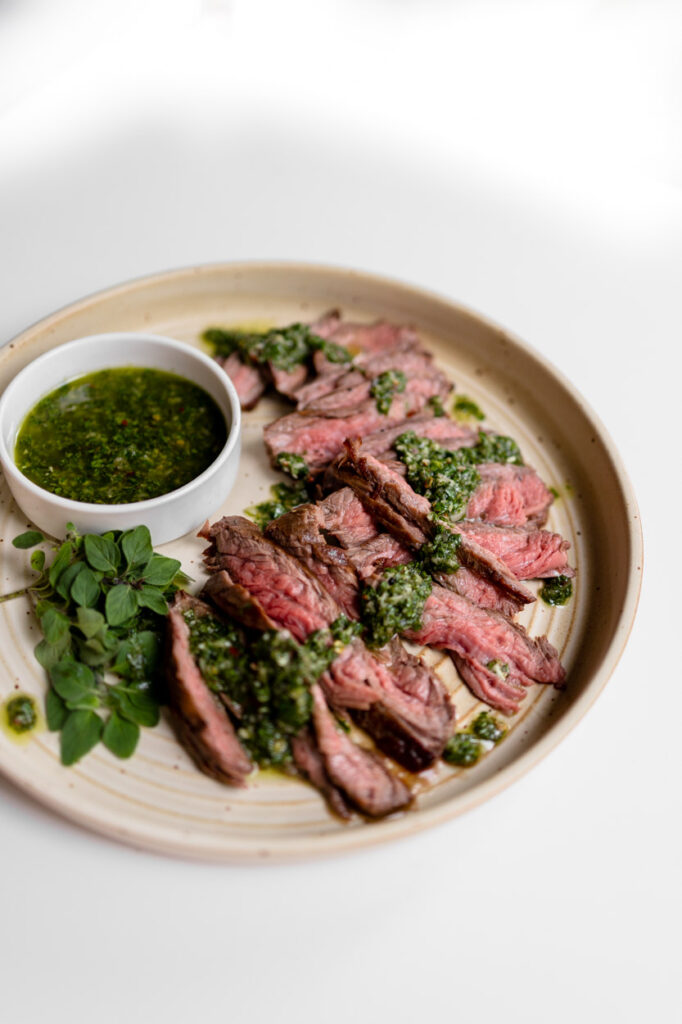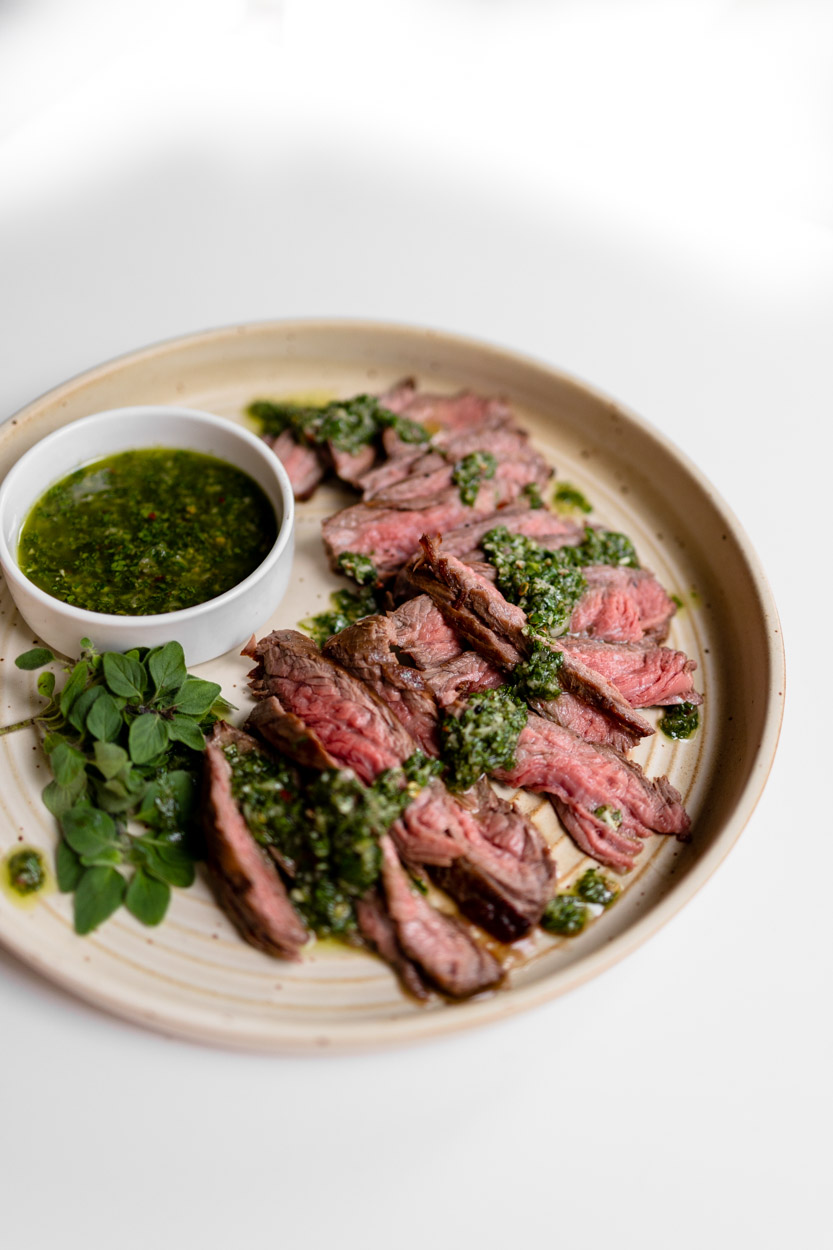 Using flank steak makes this recipe affordable and easy. It's a good cut of meat but not too expensive, like a nice ribeye or strip. However, it's still super tender and doesn't require a lot of work to make delicious! Enjoying the perfect blend of Chimichurri Sauce by Bon Appéit, they are indeed a perfect match.

We hope that you enjoy this recipe as we do. Share with us your version! Take a photo of your version, send us an email, tag us on Instagram, tweet us, anything. We love to see yours!

xoxo, Joe
Chimichurri Beef Flank Steak
Ingredients
2 pieces of Flank Steak

2 tbsp of olive oil

Chimichurri Sauce

1 shallot, finely chopped

1 Fresno chile or red jalapeño, finely chopped

3–4 garlic cloves, thinly sliced or finely chopped

½ cup red wine vinegar

1 tsp kosher salt, plus more

½ cup finely chopped cilantro

¼ cup finely chopped flat-leaf parsley

2 tbsp finely chopped oregano

¾ cup extra-virgin olive oil
Methods
Remove the steak from the refrigerator a half-hour before cooking. Cutaway any tough connective tissue on the surface of the steak. Using the tip of a sharp knife, poke small cuts into the meat, almost all the way through. The cuts should be at an angle, in the direction of the grain of the meat as the knife tip is going in. The cuts should be about an inch apart from each other. Turn the steak over and repeat the cuts on the other side.
Heat a large cast-iron frying pan on high heat. Place steak in a hot pan. Let sear for 5 to 6minutes until well browned for both sides each. Remove the steak from the pan to a cutting board and let rest for 10 minutes. Cut the meat in very thin slices, at an angle, across the grain of the meat.
Combine shallot, chile, garlic, vinegar, and 1 tsp. salt in a medium bowl. Let sit for 10 minutes. Stir in cilantro, parsley, and oregano. Using a fork, whisk in oil. Transfer ½ cup chimichurri to a small bowl; season with salt and reserve as sauce. 
Serve the steak with the Chimichurri Sauce over it.