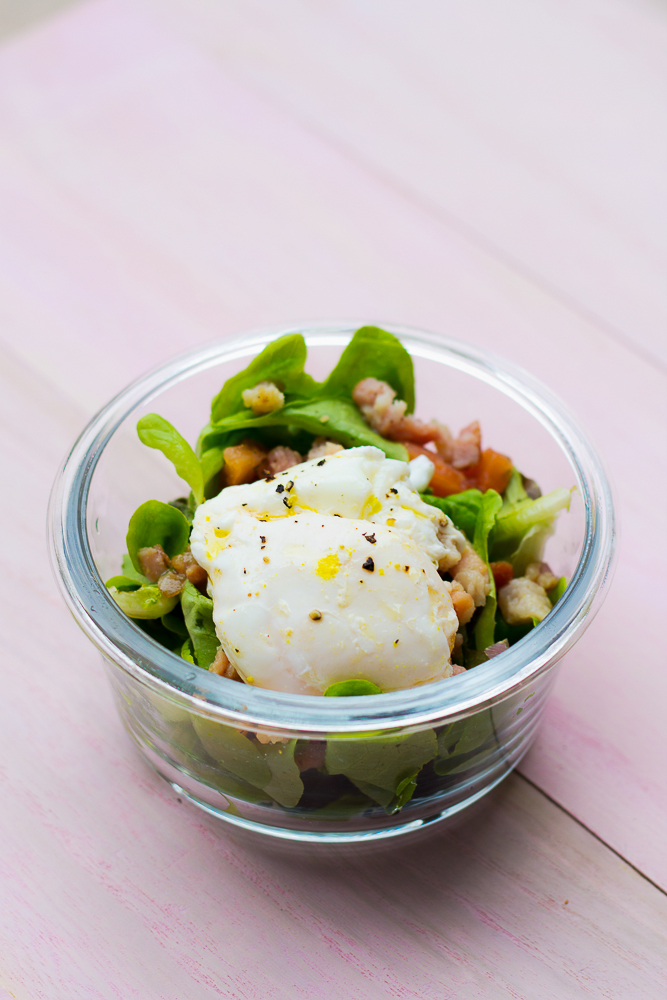 For friends who have been following our blog post all this time, you would know that we will be sharing some party tips and a 3-course meal for Mother's day. Today we will be sharing the appetizer recipe, Salmon Bacon Salad with Red Wine Olive Oil.
Ingredients for the recipe, 300g of Red and Green Oak Leaf, 200g of streaky bacon – chopped into bites, 100g of smoked salmon, 2 eggs, and vinegar. As for the sauce, you will need 2 tbsp of red wine vinegar, 2 tbsp of olive oil, 1 tsp of mustard and pinch of salt and pepper.
Start by frying the bacon in a pan till golden brown (for about 5 minutes).
At the same time, you can start working on the poached egg. Make sure your egg is fresh. Add a little of vinegar to a pot of steadily simmering water. Create a gentle whirlpool with your wooden spoon, spill the egg in the water, this step allows the egg white wrap around the yolk quickly. Cook it for 3 minutes and remove from the pot, let it drain on the kitchen towel before being served.
With all preparation being done, you can start placing the oak leaf, bacon bites and smoked salmon into a salad bowl, mix it well. Lastly, place the poached egg on the salad and drizzle the red wine olive oil onto it
*Tips –  Make sure that the water should not be boiling hot while you poaching eggs. It should be more than simmering as this allow you to have a clear view of the pot. Last but not least, never add salt in the water, to prevent the eggs white from breaking up.
We hope that you enjoy the recipe! Happy Making!