Hohoho! Are you ready for both the winter and upcoming holiday season? Well, I was lucky to enjoy my first winter and witness the snow earlier this year in London. And, we are so excited to celebrate pre-Christmas in Japan in the weeks time. We can't wait to walk down streets with the infamous Christmas lighting in Japan. 

For those are embracing the cold weather we highly recommended you with our Rosemary Vanilla Coffee. Thus, this is one of our favourite homemade brew coffee. We love the scent of rosemary, especially for this festival season. You will always feel the warmth around you.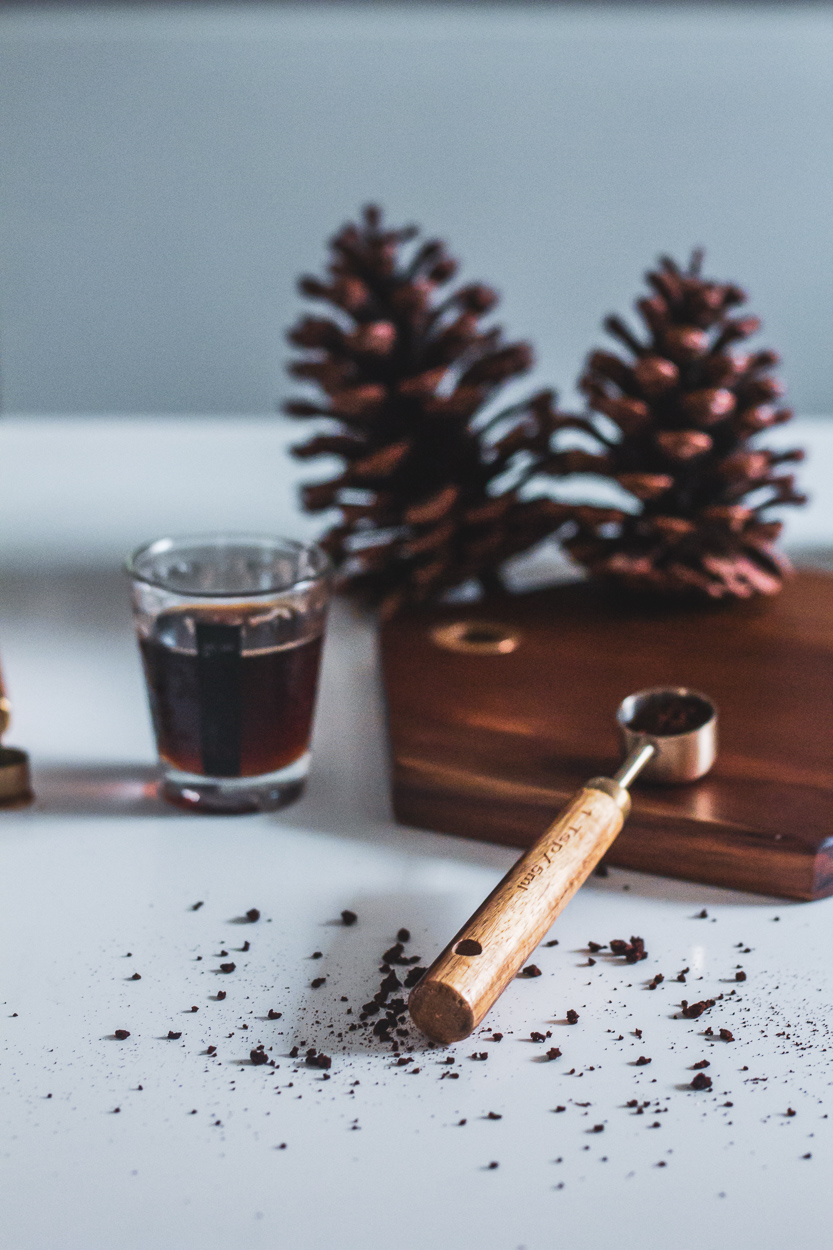 I was pleasantly surprised by the flavor, though I remember wishing it was slightly less rosemary-y. So, this is my take on their recipe: the perfect Rosemary Vanilla Coffee. To make the syrup, you'll want to make simple syrup—sugar and water—and then add vanilla extract, and rosemary.
Note: If you don't want to add the vanilla extract and want a little taste of premium taste, you'll want to add an extra 1/2 tsp of vanilla bean.
The result is a delicious iced vanilla latte with a hint of rosemary, and it's so tasty! Once you make the syrup, you'll add it to the bottom of your glass, fill the glass with ice and milk, then pour espresso shots over top. You can also enjoy this syrup in your cold brew coffee if that's easier/more accessible. You can store the syrup in a container in your refrigerator for up to two weeks. 
Ingredients |
for the syrup:
1/2 cup caster sugar
1/2 cup water
1 rosemary sprig

1/2 tsp vanilla extract
for the drink:
1-2 tbsp vanilla rosemary syrup
Ice
1 cup milk of choice
1-2 shots of espresso
Method |
To make the syrup: add sugar, water, rosemary, and vanilla extract to a saucepan. Scrape the seeds out of the vanilla bean and place them in the pan, and then place the whole bean in the pan too. Bring mix to a boil, then reduce to a simmer and simmer for 15 minutes, stirring occasionally.
Then, pour syrup through a fine mesh strainer and into a glass container. Allow syrup to cool before using.
For the drink: add syrup the bottom of your glass then fill the glass with ice. Pour milk over top, then add the espresso. Stir everything together, the add more syrup and/or sugar to taste.
If you're looking to switch up your [iced] latte game, this Rosemary Vanilla Coffee should be the next kind you try! Take a photo of your version, send us an email, tag us on Instagram, tweet us, anything. We love to see you trying out our recipe!

xoxo, Joe