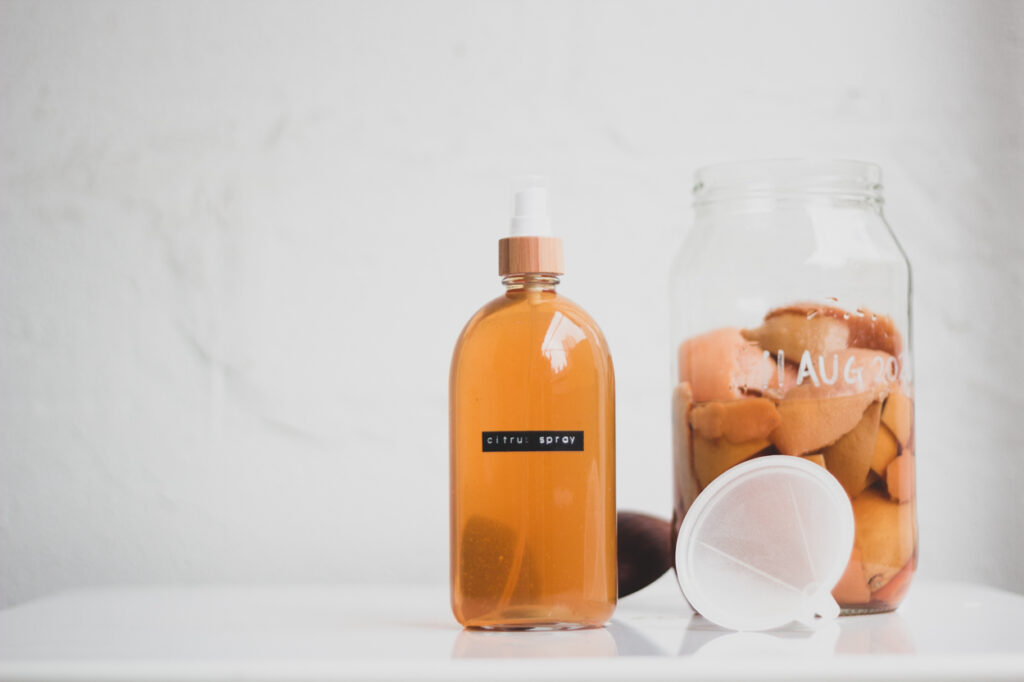 Have you ever thought what can you do with the leftover citrus peels? Our family, especially our parent are big fans with all type of citrus, you can spot it every day at home. While my mom will air-dry it to make dried citrus for Chinese soups or dessert, we decide to make another swap at home this month – which is the dish detergent.

The multipurpose citrus spray has been highly recommended by many eco-friends out there, therefore we decide to join the squad to make ours. It is very simple and we decide to put it into a post and share with you how easy it can be. It saves you bundles by grabbing your leftover citrus peels and make good use of it. What's great is that making your own might be even easier than buying it off the shelf, and a lot safer for you and your family!
Conventional Dish Soap: A Lot More Dangerous Than You'd Think
Many housewives including our mom and Joe have the same issue, they spent so much time cleaning and washing. In Asia, we do not have a dishwasher and we spend a lot of time doing cleaning on our own. End up, most of them having irritated and fragile hands with the conventional dish soap. While using the self-made citrus spray, they serve the same purpose yet chemical-free. The best environmental choice you can get it done with your waste. Now that you understand why homemade citrus spray is the way to go, let's dig into this easy DIY recipe.
Choose a wide-mouth Jar
We have been eating our way through crates of winter citrus, and recently decided to use some of the peels to make a homemade cleaner. We added orange and lemon peels to vinegar, and let them sit in an airtight container for a couple of weeks. The result: a powerful, inexpensive, natural cleaner. However, to do so you need to start with the right equipment.
You can use any jars or bottles you have it at home, there is no constraint at this. We preferred a wide-mouth jar as we want to store and remove the citrus peel at ease.
Type of combinations
If you don't use lemons/orange often and love grapefruit or even lime, then use that instead! Use a mix of your most-used citrus and herbs to get your desired combo! In the fall, we buy a lot of fresh thyme, so we plan on adding some herb to future batches! As it is a famous disinfecting herb that defeats germs.
Precautions
Like any product, if you notice any irritation, stop using immediately. Though these ingredients are gentle, it may cause an allergic reaction. You can also use different essential oils that you may prefer or have a better experience with using. Seek a holistic or functional medicine doctor for advice if needed. Avoid the eye area.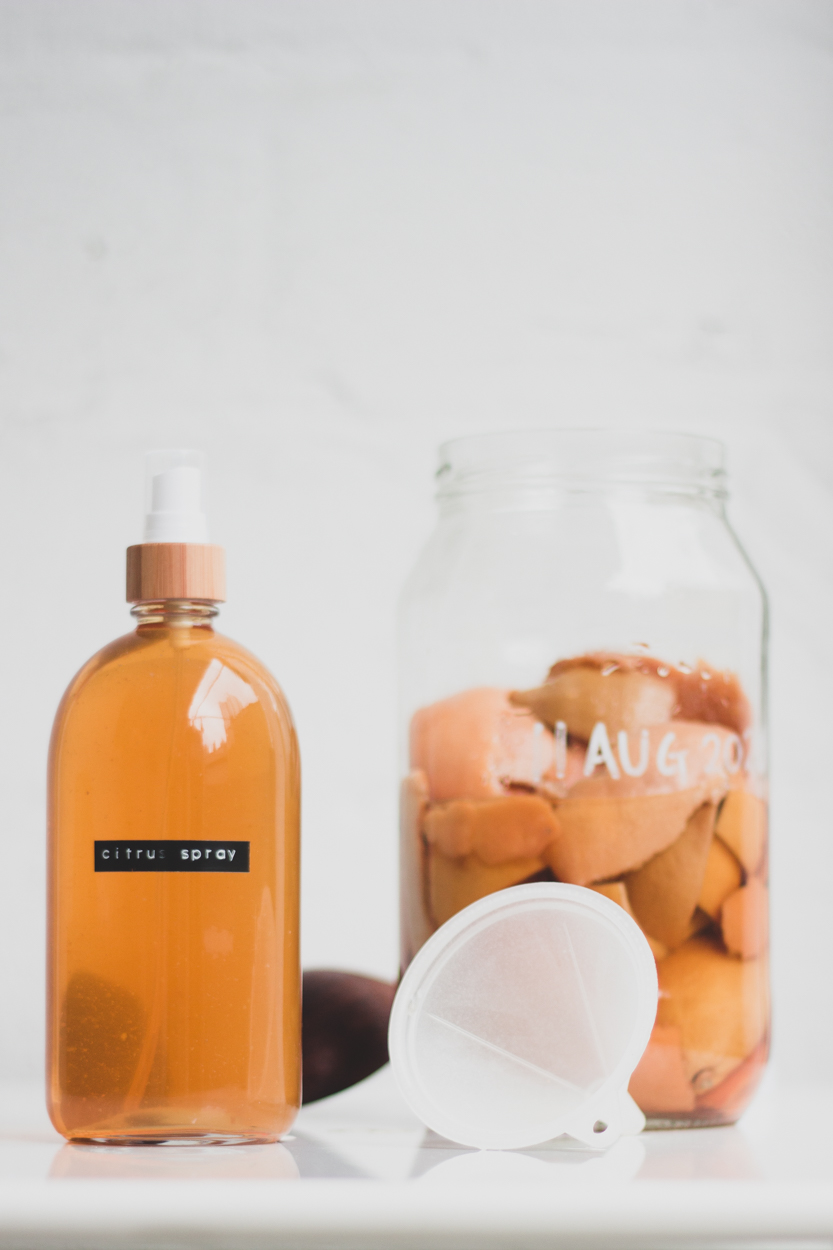 What we love most about this spray, is that we aren't going out of our way to purchase ingredients for it. We use lemons all the time. Normally, once we're done with a lemon/orange, it immediately gets tossed in the trash. We've been trying to be better about food waste, so now we can use the rinds for this spray before tossing them.
Using this cleaner is fun! It smells citrusy from the citrus peels, so if you hate everything smelling like Easter egg decorating time, you'll love this cleaner. It's also super versatile! You can use it to clean countertops (might not be safe on granite, though), sinks, tables, bathtubs, showers, toilets–anywhere you would use a commercially purchased all-purpose cleaner.
xoxo, Angela
Eco-friendly Multipurpose Citrus Spray
Ingredients
2L white vinegar (enough to cover your citrus)

citrus peels*

30 drops (1/4 tsp.) Young Living lemon, lime, or orange essential oil (optional)*
Methods
Put the vinegar, the citrus peels (add just enough that the vinegar covers them). Put on the lid and let it sit, shaking it up once in a while, for 2 to 4 weeks (the longer you wait, the stronger it gets).
Strain the citrus peels from the vinegar (a tea towel works very well for this). Put into a spray bottle.
To use, shake the bottle first to ensure everything is blended then simply spray anywhere you would any other all-purpose cleaner and wipe away.