The West Coast doesn't have that many buzzy cafes, although some have sprouted up around One North and Holland Village. Wonderfully, there is now one tucked away in the leafy suburbs of Faber Drive.
If you're familiar with Gelato Labo at Jalan Besar, they need to open another outlet next door to GLASS Roasters. Gelato Labo and GLASS Roasters have teamed up to offer a menu that is different from their Cavan Road outlet. It would probably be along the same line of coffee with gelato as a coffee affogato.
It is hard to overlook the fact that this minimalist interior style has caught on in many other cities, from Tokyo to Melbourne, with its sparkling clean white tiles and unfurnished concrete ceiling.
On a weekday, Glass Roasters often feels quite serene because of its relatively out-of-the-way location while offering limited seating. I think that's part of what made it feel like an overseas cafe.

We were recommended Taro Latte ($7.5) by the chef, and love how fragrant the taro tastes in the coffee and they complement well with each other. On the other hand, Angela ordered a Chia Latte ($5) and we are really with it as it tastes just what we like. The mixture of aromatic herbs and spices is the perfect ratio. They strive to work with smaller farmers to source coffee from, and they are currently using Colombian beans, though that can and will change from time to time.

As the place is small, they don't serve much food there, all they have is Banana Bread ($4.5). While it looks simple but is good!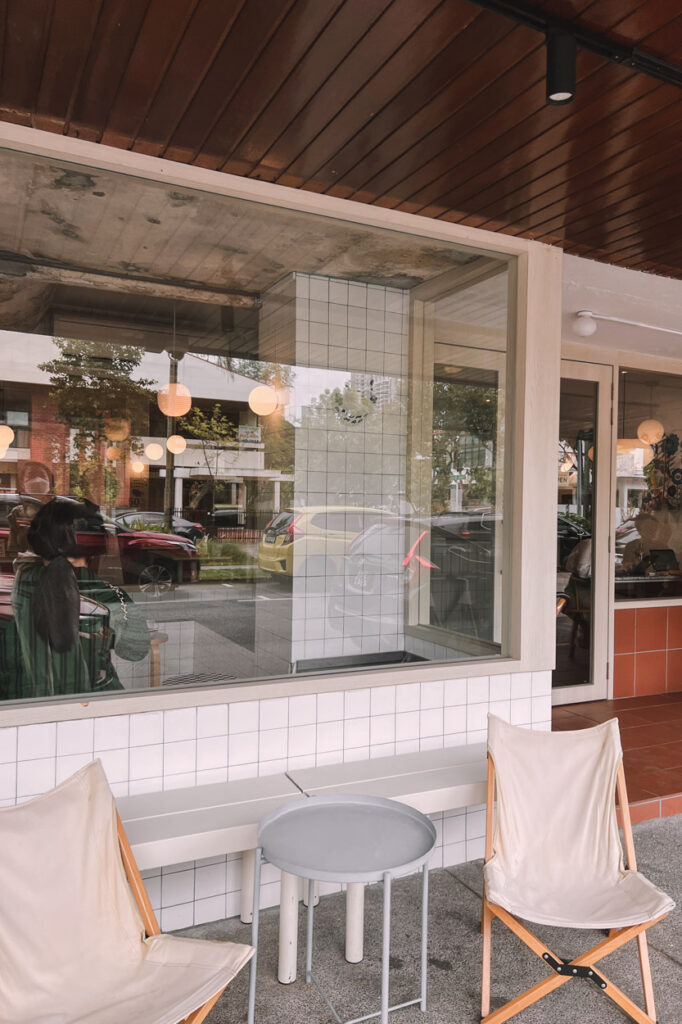 Regular customers walking in with a quick chat makes the entire atmosphere feel a bit cosier. I enjoyed that it wasn't overcrowded, which made for a wonderful time to spend a morning.
Beyond that, we genuinely do love the aesthetics of the place.
For those of us in the East craving a caffeine fix, fret not as you can also find Glass Roasters and Gelato Labo at 18 Mohamed Sultan Rd.
Glass Roaster
Address: 108 Faber Drive
Operating Hours: 9 am – 6 pm (Closed on Tuesday)