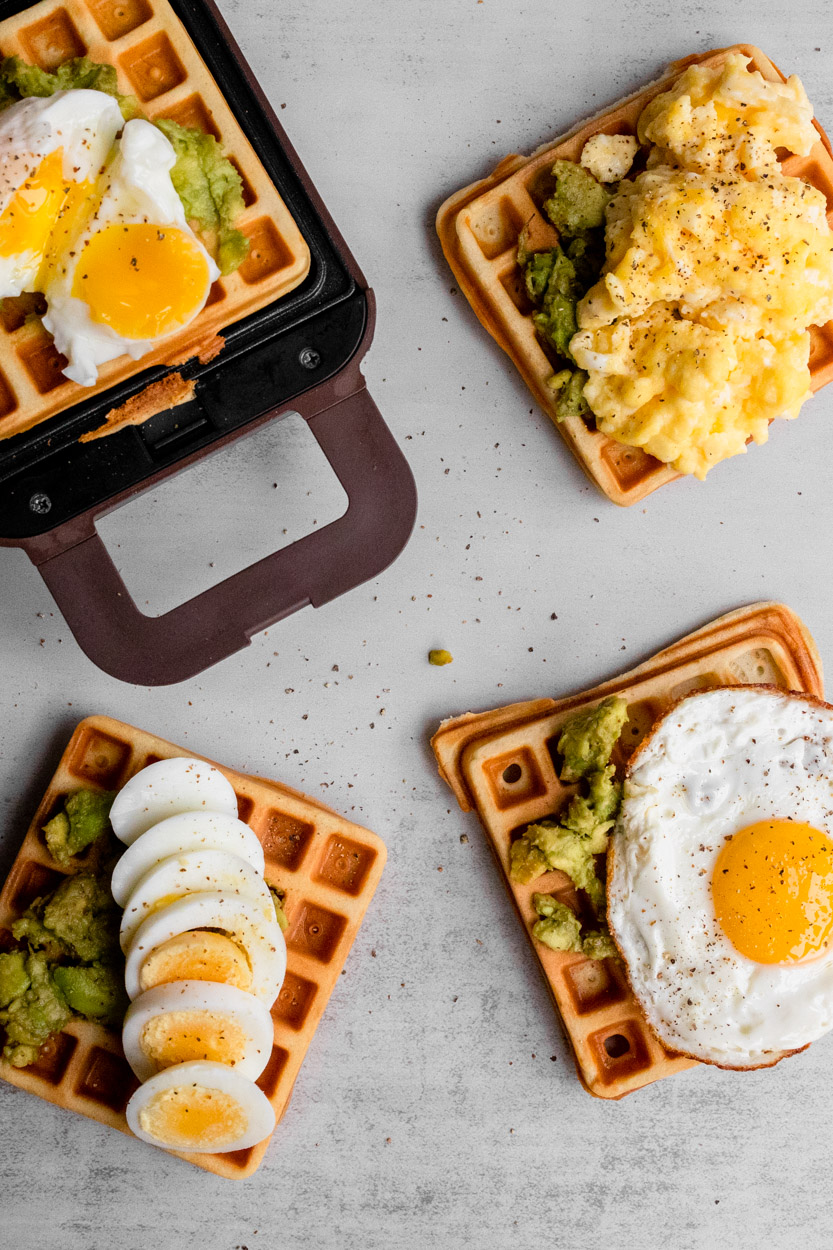 There are more than 101 ways to cook eggs. Each method is different from the other. Some of these methods require skill and experience, and even special tools, while a handful can easily be done by anyone. Cooking eggs is probably the first thing that you learned when you started to learn how to cook. In fact, the egg is one of the easiest ingredients to work with in the kitchen. It is one of our staple ingredients.
We got interested in cooking at a young age. Back then, we started to learn basic things; one of them is frying eggs for breakfast. Frying an egg might sound simple, but it can be challenging if you are doing it for the first time. After practising which resulted in something like a dozen burnt eggs, we got the hang of it. I became aware of the many ways to cook eggs and this time we are going to share with you our top 4 ways of having our eggs cooked – fried, soft boiled, hard boiled and scrambled.

You can enjoy these eggs alone, however, to have a complete breakfast we like enjoying them with these waffles – crisp on the outside, and fluffy on the inside.
How to make Waffles?
When we made these Easy Waffles from Martha Stewart, consider this our new, go-to waffle recipe when we want to start our day off with it. No fussy steps or unexpected ingredients are required here, which means we can whip these up whenever your cravings hit.

We love our waffles "fresh-off-the-iron waffles", although it may take more time by preparing the ingredients, on our good day it takes less than 15 minutes! You must be wondering if you can make the batter ahead to save time in the morning. We would not make all the batter in advance as a batter with baking soda needs to be cooked shortly after mixing.

However, a solution to this is you could also make the waffles ahead and freeze them. To reheat, microwave them for about 15-20 seconds just until they're no longer frozen. Then pop them in the toaster or toaster oven until they're hot throughout and crispy!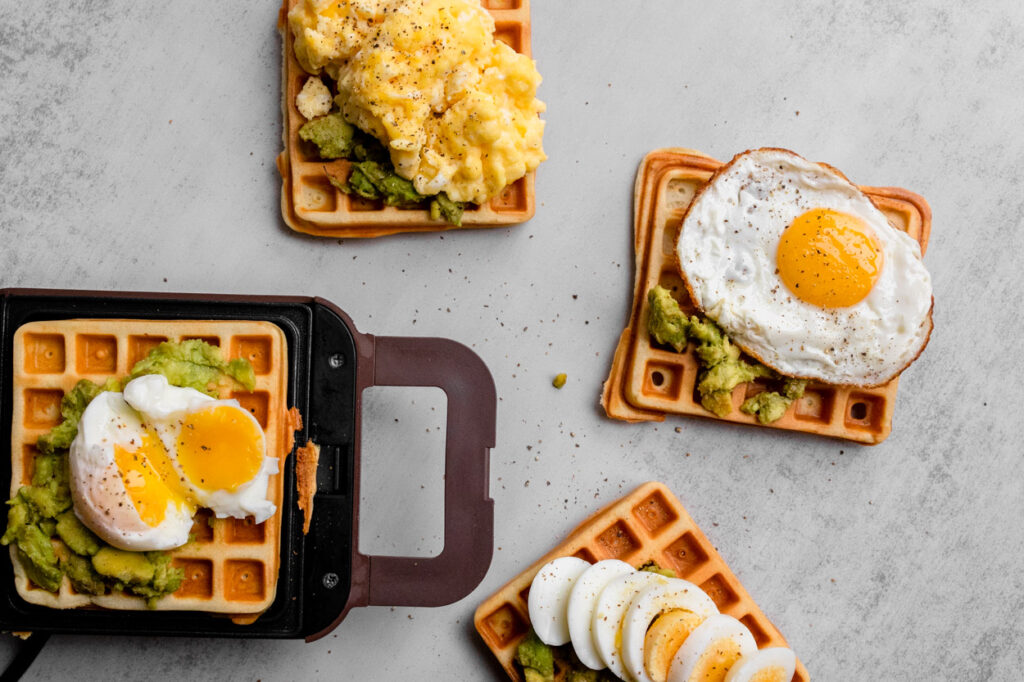 How to Cook an Egg (4 Ways)!
Sunny-side up
This type of fried egg gets its name because the bright yellow yolk shines brightly on top. It's briefly cooked over a moderate flame to gently set the whites and is covered the entire time. This cooking method traps the steam, which cooks the top of the egg without flipping over. The process takes about 2 to 3 minutes.
If you don't have a lid for the pan, just cover it with the bottom of a larger pan or use a lid from another pot. You can also fry the egg over medium-heat uncovered, reduce the heat to low after a few minutes, and baste it with extra fat like butter to finish cooking the albumin proteins on the surface.
Scrambled Egg
Scrambled eggs are one of our favourite ways of cooking an egg. The perfect scrambled egg should be all the egg pushes into a pile and stays together, indicating it's cooked ie. there's no raw, runny egg leaking around the edges, and also the surface is shiny so you can tell it's still custardy and moist. Compare to the other 3 methods, scrambled egg is one that we took a long time to perfect.

Gordon Ramsay has the best recipe for making scrambled eggs, all you need is your trusted pot and spatula. Start by putting all the ingredients (other than seasoning) in a cold pot. Start mixing all the ingredients and whisk it well on high heat. After 30 seconds, also start gently folding the eggs over (ie scoop and gently flip). Keep pushing/folding for 60 seconds total cook time or until raw runny egg no longer spreads out onto the pan and you have a pile of the soft, custardy egg.

Tips: If you are unsure about the doneness, remove it from heat while mixing. Remember only to season them when your eggs are only going to be done.
Hard-boiled Egg
A hard-boiled egg is a result of boiling an egg for a long period of time. First, boil the eggs. Place them in a pot and cover them with cold water by 1 inch. Bring the water to a boil over high heat. Then, let them sit in the hot water. As soon as the water begins to boil, turn off the heat and cover the pot. Leave the eggs in the hot water for anywhere from 8 to10 minutes, depending on how you like your eggs. The 6-minute eggs will have vibrant, creamy yolks, while the 10-minute yolks will be paler and opaque, with a chalkier texture.
Soft-boiled Egg
Soft boiled is the opposite of hard-boiled. Using the same boiling method, eggs are placed in boiling water and cooked for a short period of time. The egg white is slightly cooked leaving some parts liquid. It will also produce liquid egg yolks. First, heat the water. Bring a medium pot of water to a boil over high heat. Reduce the heat to medium, so the water maintains a gentle boil. Then, add the eggs. Using a slotted spoon, carefully lower the eggs into the simmering water. Set a timer for 7 minutes.
For both hard and soft-boiled eggs. While the eggs cook, prepare the ice bath. Fill a large bowl with cold water, and add a handful of ice. When the timer goes off, remove the eggs from the hot water, and immediately add them to the ice bath. Allow them to chill for at least 3 minutes to stop the cooking process. Then finally, peel the eggs! 
Perfect Tips for Cooking Eggs
Buy the eggs in advance. If I'm cooking sunny side up eggs, fresh eggs will yield the best results every time. But if I'm hard boiling them, the opposite is true! Boiled farm-fresh eggs are more difficult to peel than older eggs. If you want to make perfect hard boiled eggs, it pays to buy them in advance and cook them after a few days in the fridge.
Store the eggs upside down. This tip comes from Jack's mom, who makes the BEST deviled eggs for family gatherings. In order for the yolks to land right in the centre of the hard boiled eggs, she recommends storing the raw eggs upside down before you cook them.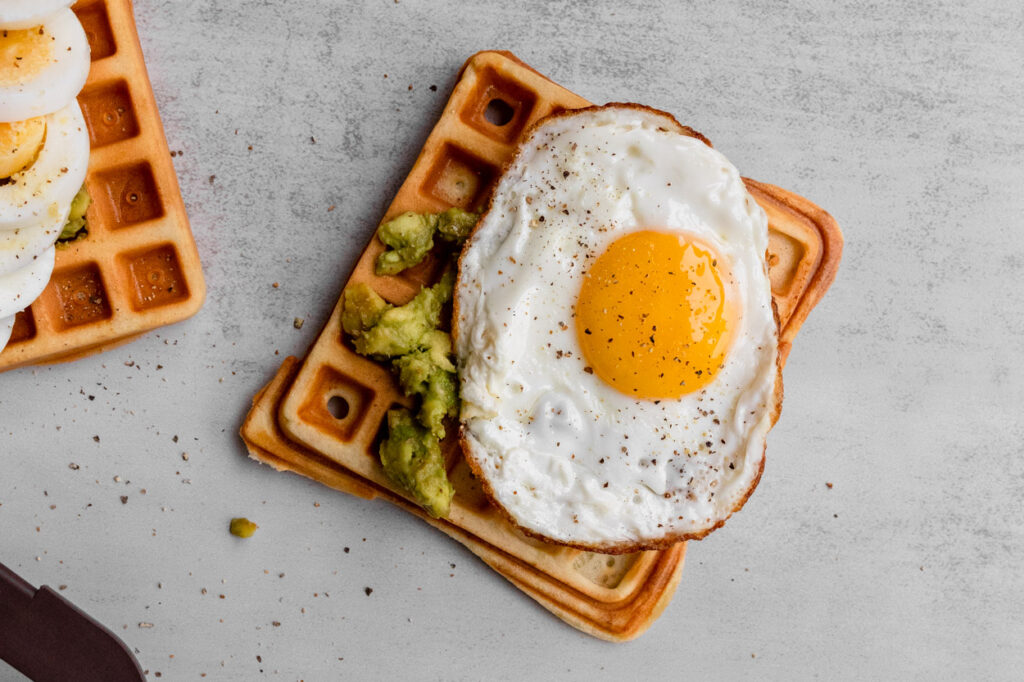 Hoe you have all your ingredients ready, assemble them and enjoy them with a cup of tea for your breakfast. To spice it up we enjoy them with our favourite avocado, but you can have them with tomatoes, vegetables and even bacon.
xoxo, Joe
Butter Waffle with Egg – 4 Ways
Crisp on the outside, and fluffy on the inside, these waffles are delicious topped with your choice of eggs. The perfect start to any weekend morning!
Ingredients
Butter Waffles

1 cup all-purpose flour, spooned and levelled

2 tablespoons sugar

1 teaspoon baking powder

1/4 teaspoon salt

1 cup milk

2 large eggs

4 tablespoons (1/2 stick) unsalted butter, melted
Methods
Butter Waffles
Preheat the waffle iron according to the manufacturer's instructions. Whisk flour, sugar, baking powder, and salt; set aside.
In a small bowl, whisk milk and eggs; pour over flour mixture, and whisk gently to combine (don't overmix). Gently whisk in butter.
Following the manufacturer's instructions, cook waffles until deep brown and crisp. (For a standard waffle iron, pour a generous 1/2 cup of batter into the centre, spreading to within 1/2 inch of the edges, and close; the waffle will cook in 2 to 3 minutes.) Serve with your choice of eggs.