It's always rare to get fresh seafood in the wet market, but when we do we surely pick up some and make something comfortable for our lunch. Though the weather is getting hotter officially, there are times when it rains heavily and is still cool where we are. This Tomato Seafood Stew seems the perfect meal to help bridge the gap.
Caramelized onion adds a subtle sweetness, fresh tomatoes add tanginess, while citrus rocket pesto (which is optional) kicks up the flavour by adding the perfect amount of heat and heartiness. Serve this with crusty bread to mop up all the juices, this is the perfect dinner. If opting for gluten-free, try adding cannellini beans for a little extra heartiness instead of the bread.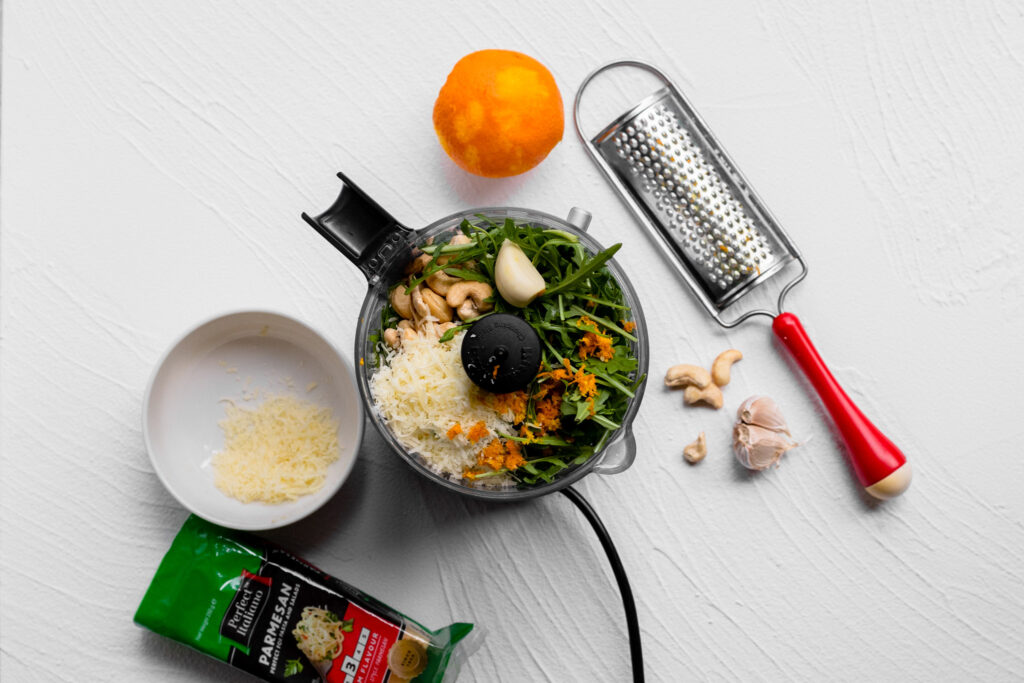 Citrus Rocket Pesto
Pesto is one of my favourite ways to bring bags of flavour to a dish with minimal effort, and this Rocket Pesto is the latest addition to my pesto recipe collection. The fast and easy pesto is packed with the fresh herby taste of rocket (arugula) with a little zing of orange.

As we mentioned, the pesto is completely optional but really adds a note of citrus freshness that goes so well with the onion and spicy notes of the stew. You can also use it on the bread. But if you are like me that appreciate contrast and texture in your foods, this pesto is for you! Compare to many of our pestos where we use basil, and parsley as the base we use rockets here where it has a spicy note added to the dishes.
What seafood to use?
Again, we like being flexible in our recipe, you can add or remove the seafood to your preferences. In order case, we use prawns, clam and mussels. However, we highly encourage you to add seafood like scallops, fish or even chorizo if you want to add more spice to it.

If you are working with frozen seafood where we do at times, you need to thaw everything before making this seafood stew, because you don't want the extra liquid. we will submerge frozen scallops and shrimps in very hot tap water for several minutes, then discard the water and squeeze them with a paper towel (we do it even in the same bowl) to remove the excess. Then we season with salt or whatever seasoning I'll be using that day.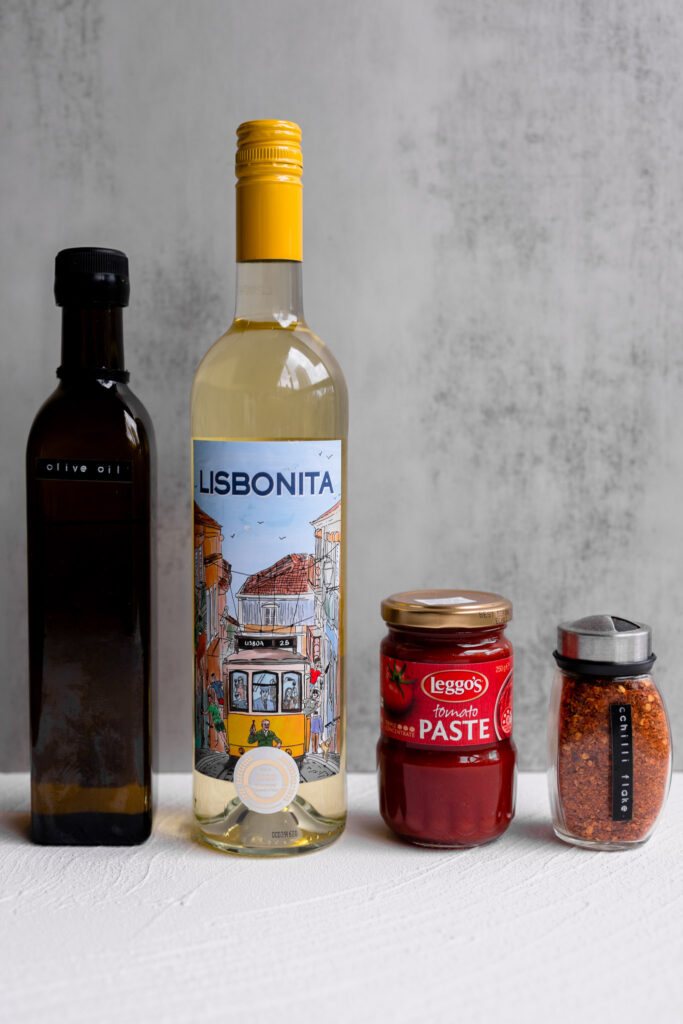 The condiments play an important role here
Tomato Paste: Since this stew has a tomato-based sauce, we highly recommend using a high-quality tomato sauce. We used Leggo's tomato sauce, it's the tomato sauce we've been using for many years to cook any tomato-based dish! It's super fresh, thick and made 100% from pure tomatoes. If you love food you probably know this brand and its quality by now, and if you haven't heard of it by now you really need to cook with it and taste by yourself!
White Wine: If you can't find a good Lisbonita wine, you can use another white wine with similar notes such as a Sauvignon Blanc. A good bottle of wine does make a difference, especially in seafood. In the past, we uses cooking white wine, and it tastes salty only and had no natural aroma of the white wine.
To take note of a delicious pot of stew
This is an amazing technique to build depth and flavour and can be used in many other dishes. Add the tomato paste to the hot pan and stir constantly, sauteing on high heat for a few minutes. It will begin to darken. Cooking or frying the tomato paste-like this really adds deep umami flavour.
Then add the white wine, let reduce, add stock, fresh tomatoes and browned chorizo. When I don't have time to make a good fish stock, I use chicken stock and add a teaspoon of fish sauce. This seems to do the trick. Let simmer for a few minutes. Taste for salt…as all stocks and also chorizo vary in saltiness. Add fresh cracked pepper. When I make this recipe, using these exact ingredients, (using flavorful chicken stock, fish sauce, chorizo, sauteing the tomato paste) I don't need to add salt. After the stew has simmered for a few minutes….add the fresh seafood.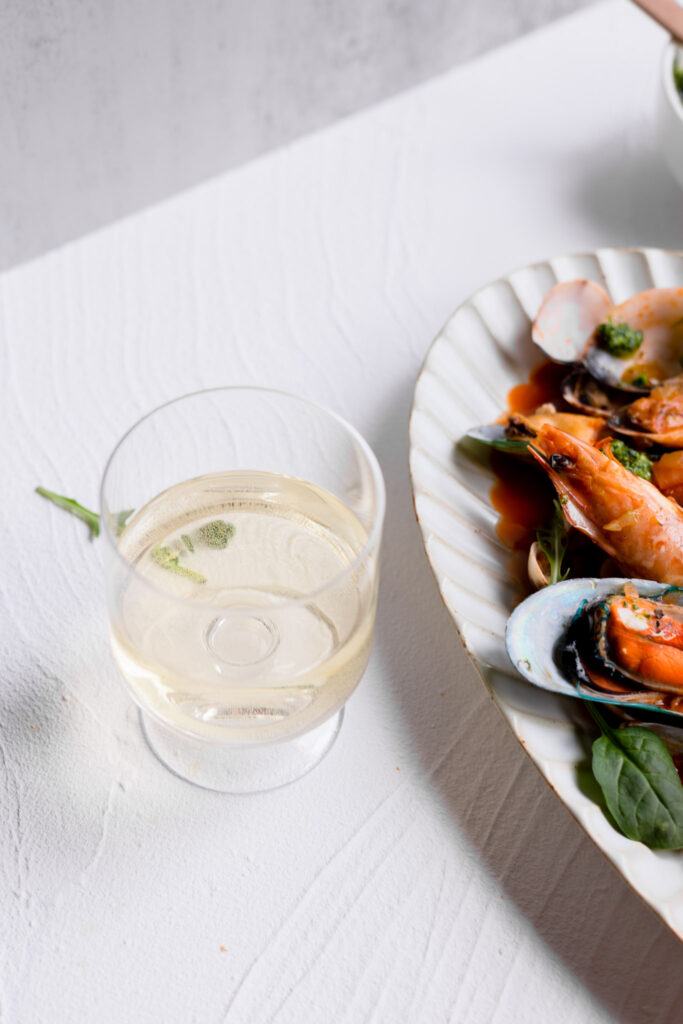 If you have any leftovers, store them in an airtight container for up to two days and reheat in a small casserole over medium heat. You can add some water or chicken stock and a drizzle of olive oil to refresh the sauce.

xoxo, Joe
Tomato Seafood Stew
Summer Seafood Stew in a light and flavorful tomato broth with smoky citrus pesto. Serve with Crusty Bread to mop up all the flavorful juices! For a Gluten-free option, instead of bread add cannellini beans!
Ingredients
3 garlic cloves, divided

2 tablespoons extra-virgin olive oil

¾ cup finely chopped onion

¼ cup finely chopped celery

1 teaspoon kosher salt, divided

½ teaspoon freshly ground black pepper, divided

½ teaspoon red-pepper flakes

½ tablespoon tomato paste

1 cup dry white wine

1 15-ounce can of crushed tomatoes

1½ cups seafood stock or vegetable broth

½ stick (4 tablespoons) unsalted butter, room temperature

½ teaspoon lemon zest

1 baguette, sliced and toasted

1 pound littleneck clams, soaked in water for 1 hour

½ pound medium tail-on shrimp, peeled and deveined

1 pound mussels, scrubbed and de-bearded

Citrus Pesto

Handful of rocket

3 tbsp of parmesan cheese