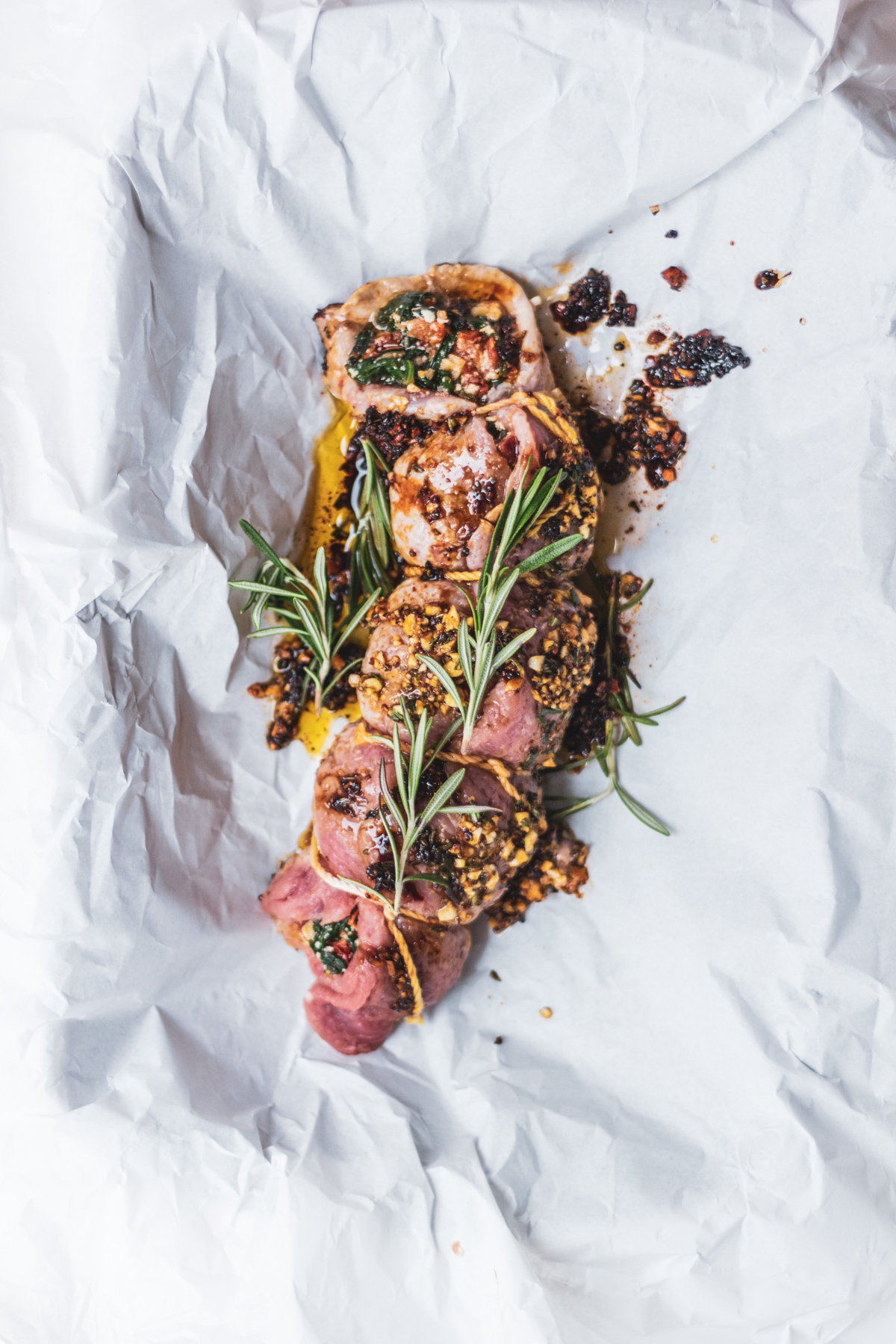 We love making food during the holiday season, as we can make food that we can't make during the usual time. Food is always better when we can share with each other. This Stuffed Pork Tenderloin is one of our favourite dishes to make as it is juicy, where it filled with Mediterranean spinach and feta cheese blend and then covered in a tangy balsamic and rosemary sauce. Any home cook can make this gorgeous pork tenderloin recipe with restaurant-worthy results!

Alright, let's get to the good stuff! This Mediterranean Stuffed Pork Tenderloin packs a big flavour punch. If you're feeling intimidated by stuffing the tenderloin, don't fret! It's easier than you think!
Pork Tenderloin: A Misunderstood Cut
Poor pork tenderloin. Can you imagine living under the shadow of bacon your whole life? Talk about feeling like the ugly duckling. While bacon has entire fan clubs dedicated to celebrating its goodness, pork tenderloin has faced a myriad of insults–too dry, too tough, too flavourless.

Here's the deal. This stigma that we've given pork, it's not the pork's fault! The pork was never meant to be cooked to the dull, grey, lifeless colour we've subjected it to for years. So today, we stand up against this injustice. Why you ask? Because Pork tenderloin deserves better. That is why today we shine a light on an under-appreciated cut of pork and show you how to treat a tenderloin right.
How to Stuff a Pork Tenderloin?
There are a few ways to stuff a pork tenderloin, but we find the easiest way is:
Slice the tenderloin in half lengthwise.
Spread the filling down the centre.
Fold the meat over your filling and use some butcher string to tie the tenderloin together.
You can ask your butcher for string, but if you forget, just leave it off. The filling might pop out a bit more when you slice it, but it will still be absolutely delicious!
Preparation of the filling
Once you've split the tenderloin, make the filling:
Heat olive oil in a skillet along with some red pepper flakes and garlic.
Add spinach and allow it to cook until wilted.
Use paper towels to remove any excess moisture from the spinach.
Combine the cooked spinach with feta, garlic, and sundried tomatoes for a filling that's creamy, tangy, and subtly sweet.
Time to bake the meat
Spread the glaze on top, place your pork stuffed tenderloin in a baking pan, and you're ready to roast!
We prefer to bake the pork at high heat for 15 minutes, then lower to 350 for the remaining cooking time. This results in an outrageously tender and juicy pork tenderloin that's full of bright Mediterranean flavours.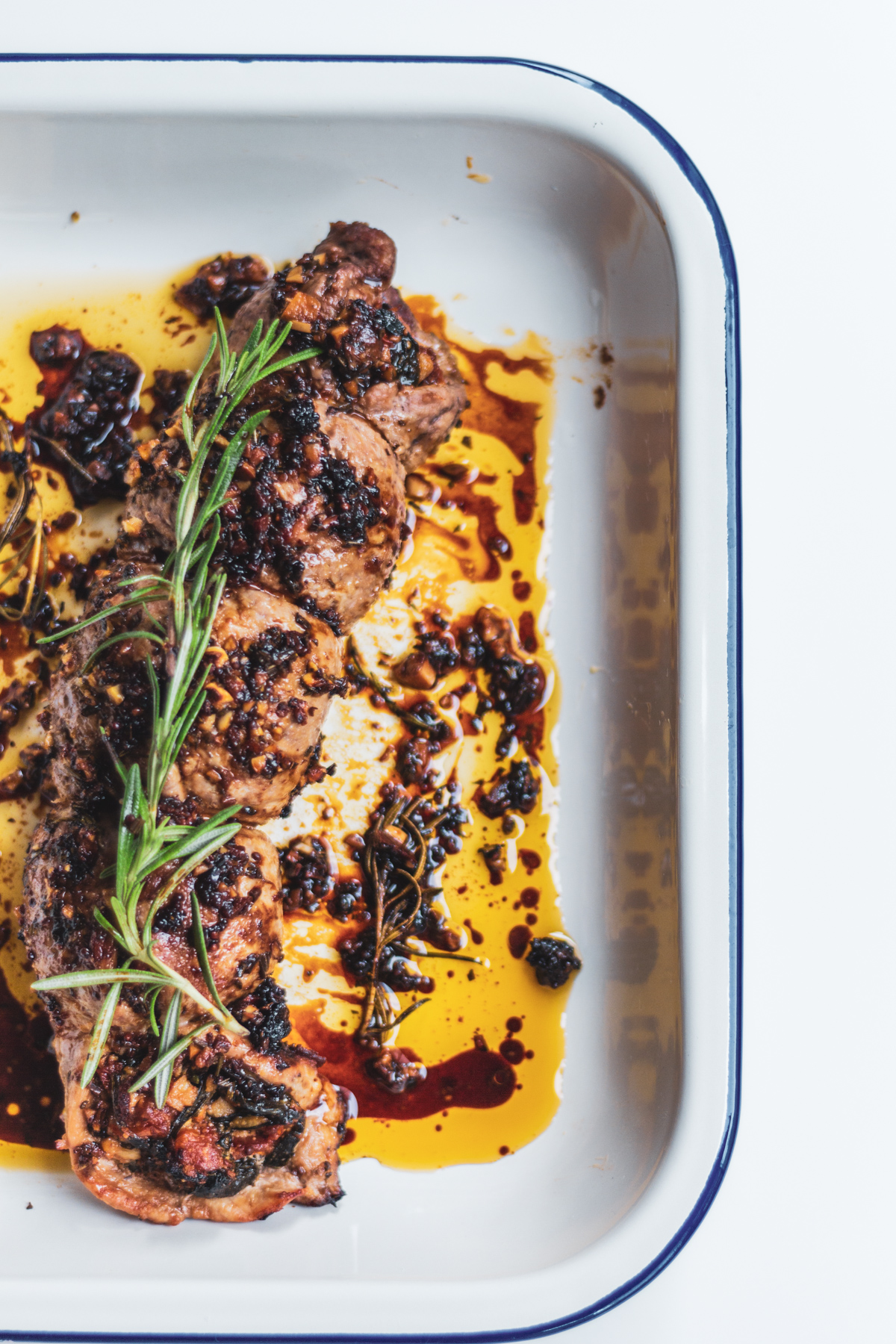 Looking for side dish ideas to accompany your Stuffed Pork Tenderloin? Try these easy Grilled Green Peas and an upscale Cauliflower Quinoa Rice.

xoxo, Joe
Pork Tenderloin Stuffed with Spinach
Ingredients
2kg pork tenderloin

For Filling

1 teaspoon olive oil

3 garlic cloves

Pinch red pepper flakes

5 cups packed baby spinach

Pinch salt

1/2 a 7 ounce container sundried tomatoes packed in oil (About 6 tomato pieces), chopped

3 ounces feta cheese

For Coating

1/4 cup balsamic vinegar

2 Tablespoons olive oil

2 teaspoons dijon mustard

1 Tablespoon rosemary, chopped

1 teaspoon lemon zest

3 cloves garlic, grated

1 heaping teaspoon Kosher salt

1/2 teaspoon black pepper
Methods
For Filling; Heat the oil in a small skillet over medium heat. Add the pepper flakes and grate the 3 cloves of garlic into the oil. Saute until fragrant, about 30 seconds. Add the spinach and allow it to wilt, about 2-3 minutes. Sprinkle lightly with salt then remove the mixture from heat. Place the spinach mixture in a paper towel and squeeze gently (be careful, it's hot!) to release any excess moisture. Place the spinach in a small bowl and stir in chopped tomatoes and feta cheese. Set aside
For Coating; Combine balsamic, oil, mustard, rosemary, lemon zest, garlic, salt, and pepper in a small bowl and whisk until smooth. Set aside.
To Assemble; Slice the tenderloin down the middle lengthwise, leaving just about a 1/2 inch intact on one side. Open the top half and lay it flat. Spread the spinach mixture evenly down the center of the loin. Fold the top half back in place and use butcher's string to tie it together in 3-4 places. Place the pork loin in a roasting pan then smear all sides with the topping.
Roast the tenderloin for 15 minutes, then reduce heat to 375 degrees and roast an additional 20-30 minutes or until a thermometer inserted in the thickest part of the loin reads at least 145 degrees. Allow the pork to rest for 10 minutes before slicing and serving.