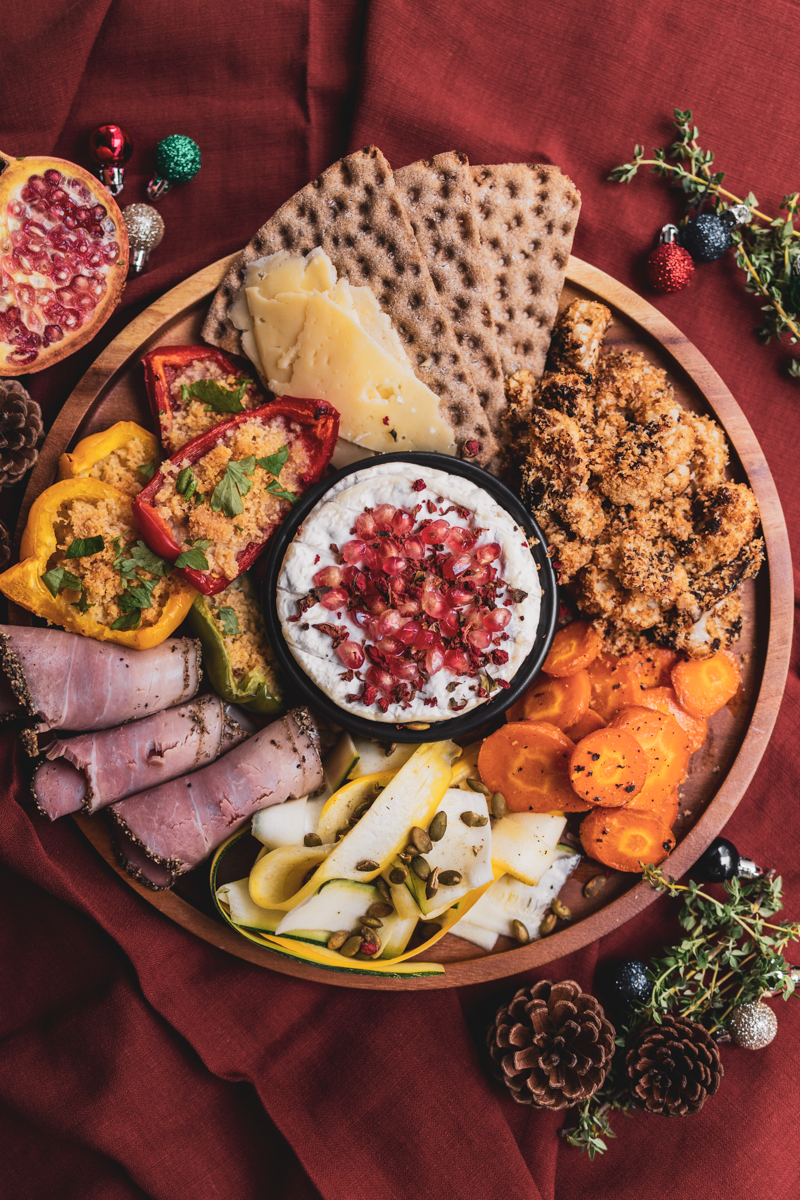 An antipasto platter is a delicious combination of cheeses, vegetables and meats, usually served with good wines. It's a great way to start an evening with friends and is very easy to put together.
The holidays are filled with opportunities to gather with friends. What better way to start a party than with an antipasto platter?These delicious platters of food make for easy entertaining at the end of the year, but they are also versatile enough to serve at parties all year long!
What is antipasto?
Antipasto, (the plural is called antipasti) when translated, means "before the meal." Antipasti platters are meant to stimulate your guest's appetite before they dig into the main meal of the evening. An antipasto platter could rightly be called a "starter platter."
What goes on an antipasto platter?
This type of platter makes great party appetizers – really tempt them. knock their socks off. Assembling one of these platters can be done in 30 minutes or less, which makes it ideal for a busy schedule when you are entertaining. There is not really a set recipe for an antipasto platter. All it takes is a love of all things that taste good, a bit of creativity and a sense of style.
Choosing your Cheese
We like to choose a variety of cheeses that give me both different tastes and different textures. Use both soft cheeses and firm ones. Keep the flavor of the cheese simple, as opposed to a cheese ball which has been flavored.
Since you will be serving meats and other tastes, let the cheese just complement the other food choices rather than trying to be the star. We use two types of Cheese Pomegranate Brie and Pasteurised Milk Cheese.
Pomegranate Brie
This baked brie recipe might just be the best holiday appetizer out there. Of course, it's delicious. What could be better than rich, melty brie piled onto golden brown baguette with honey, fruit, and nuts? It's also visually stunning, with a festive mix of red, white, and green colours.

It's important that the brie is cold when it goes in the oven. Otherwise, it will melt, not soften, while it bakes. We love to use seasonal produce whenever we cook, and, here, fresh pomegranate seeds are the perfect addition. Not only do they look gorgeous, but they also add a sweet/tart, crisp accent for the gooey, buttery cheese. We finish it off with rose petal, honey and sea salt to make the flavours pop. Tip: make sure to get a little of everything in each bite!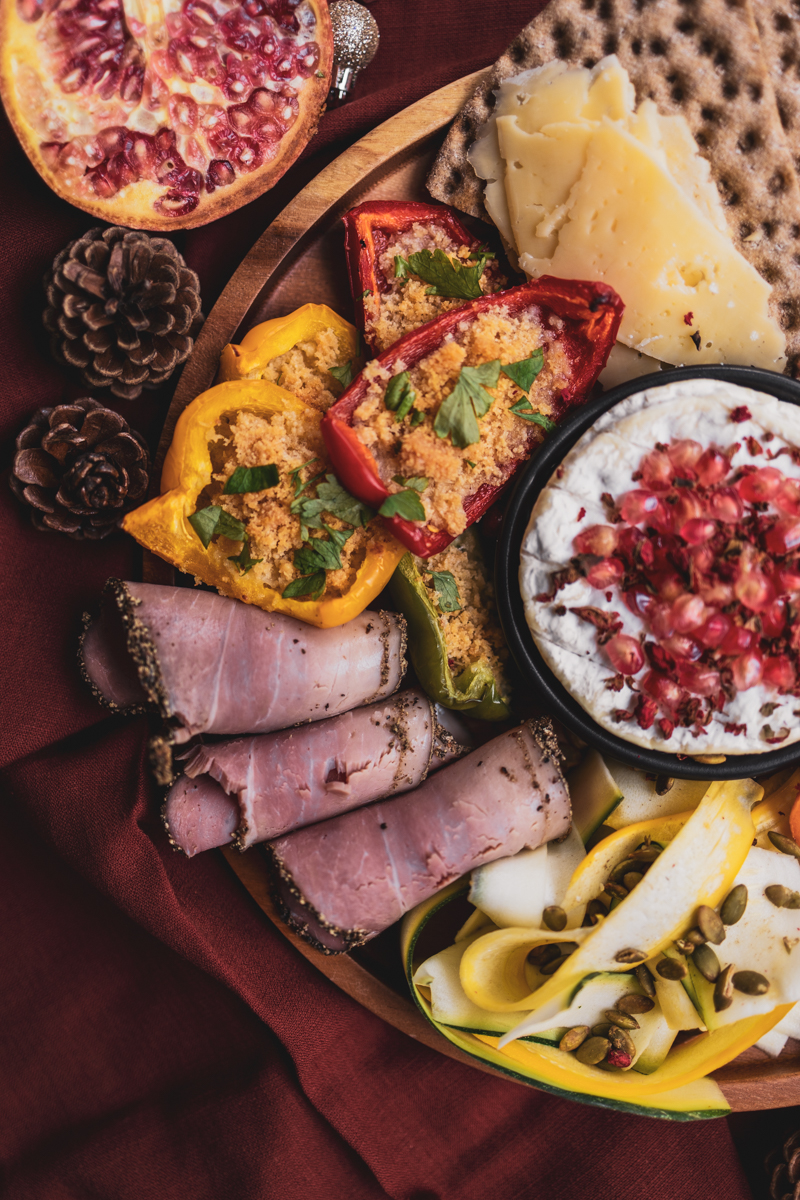 Roasted Balsamic Cauliflower
This simple roasted balsamic cauliflower makes a delicious, healthy and crowd-pleaser side dish. Plus, it's inexpensive, low carb and comes loaded with a host of health benefits, from reducing cancer to boosting brain health
But first things first: it's super easy to prepare! Quarter the cauliflower into 4 pieces and break them into florets, it can be thrown together in less than 5 minutes. Add olive oil, balsamic vinegar and seasoning, toss everything together and roast. What could be easier than that?!

Roasted Parmesan Capsicum
I don't know about you folks, but it seems like there's been a lot of comfort food on our menu lately. This Roasted Parmesan Capsicum is the newest addition to my comfort food menu. It's zesty, cheesy and simply delicious. They are sweet and have a little heat where balance up with the cheesy flavour.

Zucchini Salad
This zucchini salad recipe is a feast for the eyes as well as the taste buds! We love the way the raw zucchini ribbons curl around the crunchy pumpkin nut. Parmesan cheese gives it a salty bite, and a lemon vinaigrette fills it with bright flavour. Oh, and did I mention? It calls for under 10 ingredients and comes together in minutes.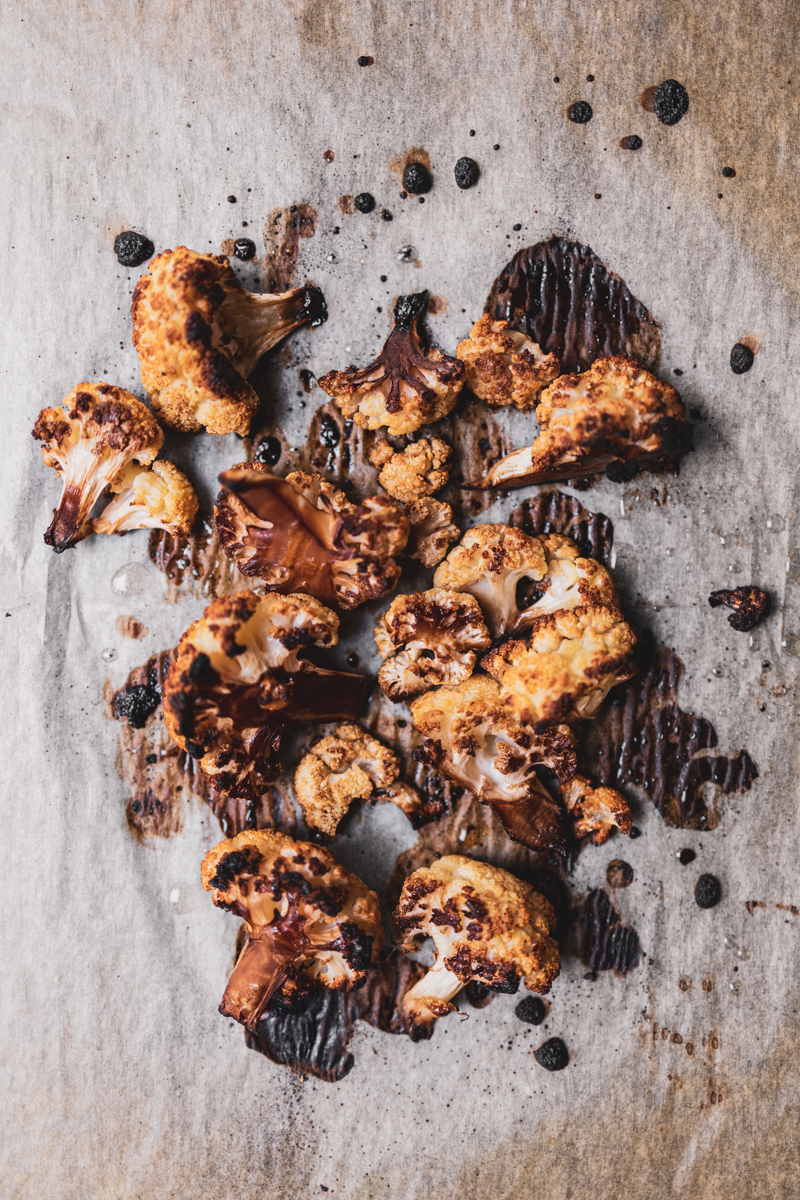 Assembling your platter
Choose a large platter, marble slab, or cake plate on which to arrange your antipasto platter. Place items in groups on the platter. For visual appeal, place a small bowl of a coloured marinated vegetable or olives in the centre and vary the colours of items next to each other.

Like the previous cheese platter that we did, start lying your centrepieces, for our, it will be the brie. Then we will head on filling in the food with a bigger portion and lastly the small one to fill up the gaps.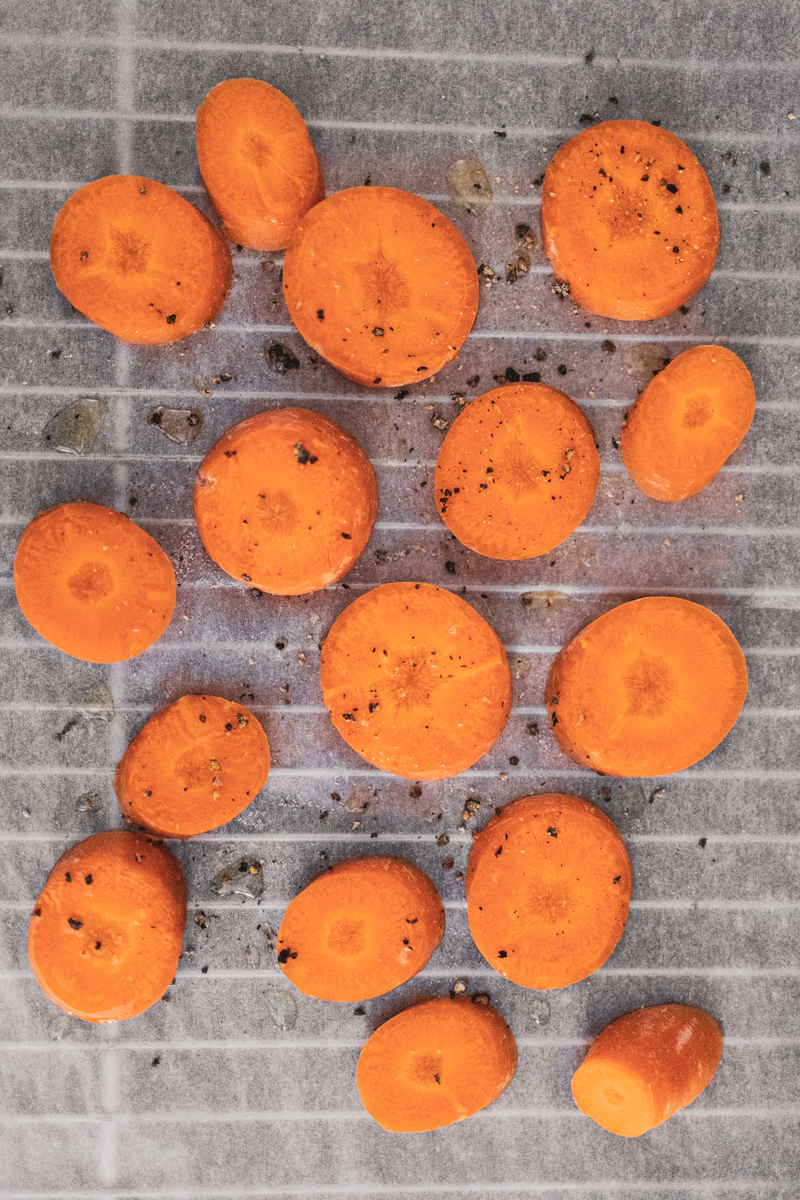 Place the antipasto platter in a location easily accessible for guests. Serve with breads or crackers and small plates alongside, allowing guests to create their own assortments of items on their plates.

xoxo, Joe
Antipasto platter and baked brie
An antipasto platter is a delicious combination of cheeses, vegetables and meats, usually served with good wines. It's a great way to start an evening with friends and is very easy to put together.
Ingredients
Carrot

Cured Meat

Pasteurised Milk Cheese

Pomegranate Brie

1 brie wheel, chilled

¼ cup pomegranate arils

Rose Petal, for garnish

Honey, for drizzling

Flaky sea salt, optional

Roasted Balsamic Cauliflower

2 tablespoons olive oil

2 tablespoons balsamic vinegar

½ teaspoon salt

1 head cauliflower, chopped into bite-size pieces

Roasted Parmesan Capsicum

3 assorted colour Capsicum – cut into bite-size

4 tbsp of parmesan

2 tbsp of olive oil

parsley for garnish

Zucchini Salad

2 assorted colour Zucchini – sliced to the ribbon

2 tbsp of lemon juice

pumpkin seed – roasted in the pan
Methods
Pomegranate Brie
Preheat the oven to 350°F and line a baking sheet with parchment paper.
Place the brie onto the baking sheet and bake 8 minutes, or until soft in the middle.
Remove from the oven and top with pomegranate arils, rose petal, and a generous drizzle of honey. Sprinkle with flaky sea salt, if desired.
Roasted Balsamic Cauliflower
Preheat oven to 450 degrees F (230 degrees C). Line a baking sheet with aluminium foil
Stir the olive oil, balsamic vinegar, salt, and garlic together in a bowl. Add the cauliflower and toss to coat; spread the mixture onto the lined baking sheet.
Stirring occasionally, bake in the preheated oven until tender, about 20 minutes.
Roasted Parmesan Capsicum
Cut the Capsicum into smaller pieces and place it on the baking tray.
Mix the parmesan and olive oil in a bowl well, and fill it into the "cup" of the capsicum.
Bake it for 30 minutes at 220C. Cool it and garnish it with chopped Parmesan.
Zucchini Salad
Mix all ingredients well in a bowl.